Sample Print Portfolio
Magazine Articles
---
Ads: 1 2 3 4 | Direct Response/Promotions: 1 2 3 4
Web Sites: 1 2 | Ad Banners | Radio Scripts | Sell Sheets
Packaging: 1 2 | Brochures | Magazine Articles
HTML Email/Newsletters
---
Click here for Magazine index page
One Roll, One Day, Underwater In Monterey
The 21st Annual California Beach Dive Photographic Competition captures the serene beauty of underwater imagery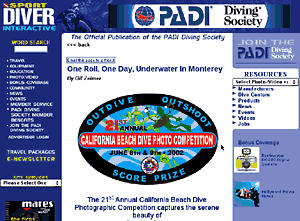 By Gil Zeimer
Take 100 rolls of Kodak slide film. Give one each to 100 scuba divers. Add 50-degree water, rugged cameras, thick wetsuits, masks, fins, gloves, weights, and tanks. Ask for it back in a few hours. And award the best shots with over $20,000 in prizes.
That's what the Northern California Underwater Photographic Society's annual one-day competition every Spring is all about.
The club's biggest event: As the club's single largest annual diving / photography / community event of the year, the CBDPC is held in high esteem by club members and our dive buddies. The 2002 event is no exception because Paula Butler, the NCUPS Marketing Manager, is doing an outstanding job of garnering prizes and hopes to surpass $20,000 in donated liveaboard and land-based dive trips, equipment, books, and more.
The logo: This year, a new logo was created for the event by John Newman, formerly Editor/Art Director at Dive Travel magazine. It will be featured prominently on the front of our event T-shirt that each participant will get.
The details: Entry fee is $50 for early registration postmarked by May 29th, or $65 on event day. Categories will be: Novice, Amateur and Open; subjects are Diver, Macro, Marine Life and Wide-Angle.
The entry fee includes: one roll of Kodak E100VS film, processing, an event T-shirt, and group dinner Saturday with a no-host bar at the Monterey Senior Center and slide show. Slide selection will be Sunday at the Monterey Peninsula College from 7:30-8:30 a.m., followed by the judging from 8:30 a.m.-Noon. The awards show presentation will follow from 1-3 p.m. To view past winners, visit: http://www.ncups.org/bdpc2001winlist.htm.
The entry form: The official 2002 entry form is now downloadable at the NCUPS Web site at: http://www.ncups.org/bdpc2002.htm. Please tell your dive buddies, members of other clubs and photography friends to enter by May 29th.
The prizes: Top prizes awarded will be Tropical Dive vacations arranged through:
Reef and Rainforest
Dive Discovery
Wakatobi Dive Resort
Baja Expeditions
Other prizes will include:
film from Kodak Professional
custom enlargements from Fry's Photographics and The Darkroom
eight tickets to an Oakland A's game
video housing from Backscatter
an Ikelight auto 35 package
books from Aqua Quest Publications, Lonely Planet and Sea Challengers
Hall Productions, DUI, DAN, Cypress Charters, Monterey Express and Sub Aquatic camera repair have donated additional prizes.
The co-chairs: For more information or an entry form, please contact the CBDPC co-chairs:
Gil Zeimer


415-491-1058, or
Helga Mahlmann,
hmahlmann@oaklandathletics.com
510-635-2943.
© 2002 World Publications, LLC
Click here for Magazine Index Page