Sample Print Portfolio
Magazine Articles
---
Ads: 1 2 3 4 | Direct Response/Promotions: 1 2 3 4
Web Sites: 1 2 | Ad Banners | Radio Scripts | Sell Sheets
Packaging: 1 2 | Brochures | Magazine Articles
HTML Email/Newsletters
---

Scuba divers dance to humpbacks' song, keeping time to warm waves that crash off Maui's southern shores
By Gil Zeimer, Adventure Journal, Summer 1998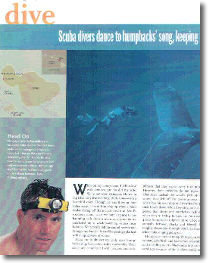 While on my honeymoon, I fell in love with another man. So did my wife. We're not even swingers. He was a big fella - 45 feet long, 30 tons, and had a beautiful voice. Though he was three or four miles away, I heard him singing when I went scuba diving at Ka'anapali Beach at Maui's southern shore. Later we both listened to his haunting calls from a mere 200 hundreds yards as we snorkeled on a whale-watching cruise near Lahaina. We actually felt the sound vibrations reverberate through our bodies. It was like getting splashed with a liquid wave of sound.
Allow me to blubber on. Only male humpbacks sing, but no one really knows why. Their songs are complicated with phrases and sub-phrases that they repeat every 6-18 minutes. However, their melodies do not repeat year after year; instead the whales pick up from where they left off the previous year. Each whale has his own ditty and they tend to point their heads down when they sing, so it is suggested that divers and snorkelers look down when they're trying to tune in. As many as 4,000 humpbacks migrate up to 3,600 miles annually to Hawaii from Alaska, from roughly December through April. So there's a whole lotta singing going on.
Humpbacks trek to tranquil Hawaiian waters to mate, give birth and fast before returning to the colder feeding waters. They come to Maui's leeward side because of the shallow, sandy ocean floor, 75-80 degree waters and the protected channel. This special sanctuary is the only place in the U.S. where humpbacks come to reproduce and is the best place in the world for tourists and researchers to see so many whales, so close to land.
As Jacque Cousteau once preached: "We are but visitors to ze underwater world of ze humpback whales. Please be kind to zese gentle giants." Thanks to the 1972 Marine Mammal Protection Act and the urgings of Cousteau and other activists, humpbacks have come back from near-extinction. The MMPA strictly protects them from human contact; there's a hefty fine of $100,000 for hassling them, and all boats must honor a 100-yard no-approach perimeter, especially whale watching cruises. So choose an operator accordingly.
For more information on diving near, but not with, humpbacks contact Hawaiian Islands Humpback Whale Marine Sanctuary (phone icon) (800) 831-4888. Other prime humback territory: Alaska, California's central coast, New England, Mexico's Sea of Cortez and Magdalena Bay, and the Dominican Republic, where you can get closer than anywhere else. For California and Dominican reservations, call Oceanic Society Expeditions (phone icon) (800) 326-7491
Gil Zeimer, is a full-time ad writer, part-time diver, and contributor to several diving magazines. He lives in San Rafael, California.
Click here for Magazine Index Page