Sample Print Portfolio
Magazine Articles
---
Ads: 1 2 3 4 | Direct Response/Promotions: 1 2 3 4
Web Sites: 1 2 | Ad Banners | Radio Scripts | Sell Sheets
Packaging: 1 2 | Brochures | Magazine Articles
HTML Email/Newsletters
---
Click here for Magazine index page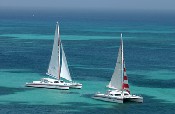 by Gil Zeimer, Red Sail Sports Newsletter, August 2002
I traveled over 4,000 miles to find a watersports paradise. It's called Aruba.
From the shallow turquoise blue waters caressing the high-rise hotels along beautiful Palm Beach, I had my choice of a dozen watersports activities through Red Sail Sports, the island's most popular sports supplier and an international adventure outfitter.
Why Visitors Trust Red Sail Sports in Aruba
The "One Happy Island" of Aruba has hosted millions of tourists over the past half-century. Sports enthusiasts like me flock here to enjoy the year-round endless summer with temperatures hovering near 86 degrees F., cooling trade winds and minimal humidity, while the ocean temperature averages 78 degrees F. Plus, when I was snorkeling, diving and swimming, I was comforted by 80 degree F. ocean waters.
Red Sail Sports Aruba is a four time "Iguana" award winner on the island for watersports excellence. Friends of mine dove with them last year while visiting for the day on a cruise ship. No wonder they were voted "Best Tour of the Season" by Princess Cruise Lines.
The company has a loyal customer base. While on a snorkel sail in Aruba, a man from Morgantown, West Virginia told me, "My family was first introduced to Red Sail Sports when we stayed at the Hyatt on Grand Cayman. We found the staff and crew to be very professional, courteous, and made our vacation there more special. One of the reasons we chose to stay at the Hyatt in Aruba was that Red Sail Sports was located in the hotel, which meant that we had easy access to the many different water-related activities."
A Wide Variety of Watersports at Aruba's Aquatic Playground
Just about anything you could think of for watersports is available just footsteps across the white, powdery sand. Whether you want to jump on a catamaran, go SCUBA diving, take a snorkeling tour, parasail high above the breakers, rent a sailboat, pedal a paddleboat, steer a kayak, be towed on a Banana Boat or Tube Ride, waterski, try deep sea fishing, let your kids try the Bubblemaker Course (ages 8-11) or SASY (Supplied Air Snorkeling for Youth for ages 6 and up), or view the bottom-of-the-sea on a submarine cruise, Red Sail Sports Aruba is your one-stop watersports shop.
SCUBA diving is my first love, so I went out on each of Red Sail Sports modern boats on separate days for 2-tank dives. On the 48' Pasa Bon ("Have A Good Time"), which can accommodate up to 24 divers, we motored for about 10 minutes to Arashi Reef at a site called Propellers. There, we descended to about 40 feet and saw a few propellers, all that's left of sunken World War II planes destroyed by years of currents. We also saw a reef structure that attracts moral eels and octopi, plus scores of sergeant majors, parrot fish, angel fish, wrasses, and other tropical fish. Wearing just a shorty 1/8" wetsuit gave me far more freedom than the Farmer John 1/4" suit and hood I have to wear in cold Northern California waters.
On another day, I boarded the 40' Vista Mar ("View of the Sea"), which can also hold up to 24 divers. It features two fresh water rinse tanks and showers, a wide open dive platform, dual entry ladders, restroom, and lots of room for photographic and dive gear.
No one should visit Aruba without seeing the Antilla. At 400 feet, it's the largest wreck in the Caribbean Sea. Part of it is visible above water, while the remainder slants into the sand at a depth of 60 feet. Known locally as the "Ghost Ship", this German freighter was purposely sunk by its captain on May 10, 1940, rather than surrendering to the Dutch Marines. It was one of the best dives of my life, featuring swim throughs of the roomy compartments, thousands of bait fish that surrounded my buddy and me in a 20-foot swirling mass for about five minutes, dozens of varieties of colorful tropical fish, coral-encrusted surfaces, and an eerie feeling of timeless beauty.
Red Sail Sports offers daily trips to a variety of the 20 moored dive sites that surround the island, mostly off the western and southern coasts.
The Half Day Luncheon Snorkel Sail was an activity that I happily shared with my wife and 8-year-old daughter for four hours. The Rumba, one of the island's largest sailing vessels, is a state-of-the-art catamaran that sped us smoothly to three different snorkel stops, including the Antilla. The sail featured an open bar, fresh fruit and pastries, a great deli-style lunch, snorkeling equipment and assistance.
The Sunset Sail a few days later, also on the Rumba, was an incredibly beautiful experience with the backdrop of another perfect, bright red Caribbean sunset. For 90 minutes, we paralleled the northern and central coast of Aruba, powered by the gentle trade winds. The passengers enjoyed snacks and a complimentary bar featuring festive local rum cocktails.
The Atlantis Submarine is one of the island's most popular tourist attractions. And why not? Not many people can witness the remains of the Mi Dushi I shipwreck or the Sonesta airplane's remains 150 feet below the surface and stay perfectly dry. My daughter and I saw moray eels, zillions of colorful fish, brilliant coral reefs, and more through our porthole on this 1-hour voyage to the bottom of the sea. A catamaran transported the 42 passengers from Oranjestad 30 minutes each way to the sub.
Parasailing above the waves was a treat my final day. Red Sail Sports arranged for me to "fly" at an altitude of about 250 feet for 15 minutes from a speedboat from Marriott's Aruba Ocean Club. Because of the steady trade winds, I floated on the air currents to view the entire western part of the island, as well as a cruise ship 8 miles away.
I wish I could have windsurfed, kayaked, or gone fishing. But with so much to do and only so much time to do it, I truly enjoyed the Watersports Paradise known as Aruba.
Internationally, Red Sail Sports operates watersports facilities in Grand Cayman, Aruba and Hawaii with corporate headquarters based in San Francisco, California. The eleven year old watersports company offers a variety of vacation packages featuring scuba diving and accommodations with its hotel partners. For more information or reservations call 877-RED-SAIL, or e-mail us at info@redsail.com
Click here for Magazine Index Page