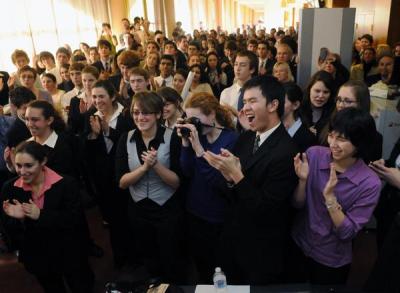 Click image to enlarge.
(Caption) Kingsley Leung, of Terra Linda High, (front right) and fellow TL student "attorneys" Wilhelmina van Royen (wearing vest, left) and Natsuko Porcino (far right), applaud for their school during the awards ceremony at the 2010 Mock Trial Competition, coordinated by the Marin County Office of Education at the Marin County Courthouse in San Rafael, on Saturday, February 6, 2010. Terra Linda and Tam High were selected as the mock trial finalists, facing off in the "People v. Bratton" case, in which students examined the orgins of the Fourth Amendment and discuss privacy and protection against unreasonable search and seizure. (IJ photo/Jeff Vendsel)
This article has nothing to do with copywriting and everything to do with blogging. As Betty Suarez said last week on ABC-TV's "Ugly Betty", "some people blog because they don't write for a national fashion magazine or a TV station."
I blog about advertising copywriting, marketing, branding, and travel. But today, I'm blogging about my daughter Sara's performance yesterday at the Marin County Mock Trial finals held at the County Courthouse in San Rafael, CA. She (shown above, second on the left) and several of her Terra Linda High School teammates were also given awards for their outstanding performances.
The finals were covered in an article below by the Marin Independent Journal reporter Jennifer Upshaw Swartz and photographer Jeff Vendsel.
Tamalpais High School, which for years has dominated Marin County's mock trial competition, did not disappoint Saturday, beating finalist Terra Linda High School to advance to the state finals.
Twenty-seven Tam students, who won the Marin County Mock Trial Championship for the 15th year in a row, also competed for the right to advance against The Branson School, Marin Academy, Marin Catholic High School, Sir Francis Drake High School and San Marin High School during the competition Jan. 30 and Saturday at the Marin Civic Center in San Rafael.
Winners of the California Mock Trial Tournament, set for March 19-21 in San Jose, will advance to the national championship, won by Tam students in 2005. Winners of this year's state finals will compete May 6-8 in the 2010 National High School Mock Trial competition in Philadelphia.
"I love these kids," said David Vogelstein, the Tam attorney coach and a local criminal defense attorney from Mill Valley. "I love teaching them and learning from them. I'm a mock trial junkie.
"They develop moral and ethical toughness and learn to think on their feet," he said.
Mock trial veteran Sam Katsin, 23, a Tam High and Cal Berkeley graduate who now works in the Marin legal community as he prepares for law school, said he loved returning to his roots.
"This program gave me more than I could ever possibly give back," he said. "I want to make sure that everyone has the same fantastic experience that I had. Frankly, I miss being part of it."
A group of local attorneys scored the competition, which was presided over by Marin Superior Court judges and commissioners. This year's case was People v. Bratton, a murder trial in which a comedian was accused of killing a man who wrote a poor review of his routine.
During the finals, in which each school's team served as both the prosecution and defense in separate courtrooms, students enacted a jury trial, arguing motions, delivering impassioned opening and closing arguments, grilling witnesses and, occasionally, objecting.
"They do their job as if it's a full court," said Robin Gerrity, Marin County Office of Education competitions coordinator, who said the students benefit from "the academic challenge and the moral and ethical challenge of the law."
"I think you are an inspiring group," Marin Superior Court Judge Andrew Sweet told the students after one of the two final trials ended in a mistrial due to the jury's inability to render a verdict. "This is my first year judging this competition. I'm blown away by what you guys do here. It's awesome.
"I think today may have been one of the most enjoyable days I've ever had in a courtroom."