I'm proud to have a deep and rich history as a freelance technology copywriter since the early 1990s. These include:
The successful introduction of Intuit's QuickBooks.
A campaign for the first Sun Microsystems' Java Internet Business Expo.
Multiple marketing campaigns for Visioneer scanners.
Oracle iDevelop Conferences mailers.
A few high-level projects for Adobe.
Intel's first standalone consumer product.
A Cisco Systems direct mail project created in one week.
A 55% response rate for a 3-D mailing for a turnkey manufacturing company.
Postcard campaigns for a privately owned ISP.
And projects for other tech companies.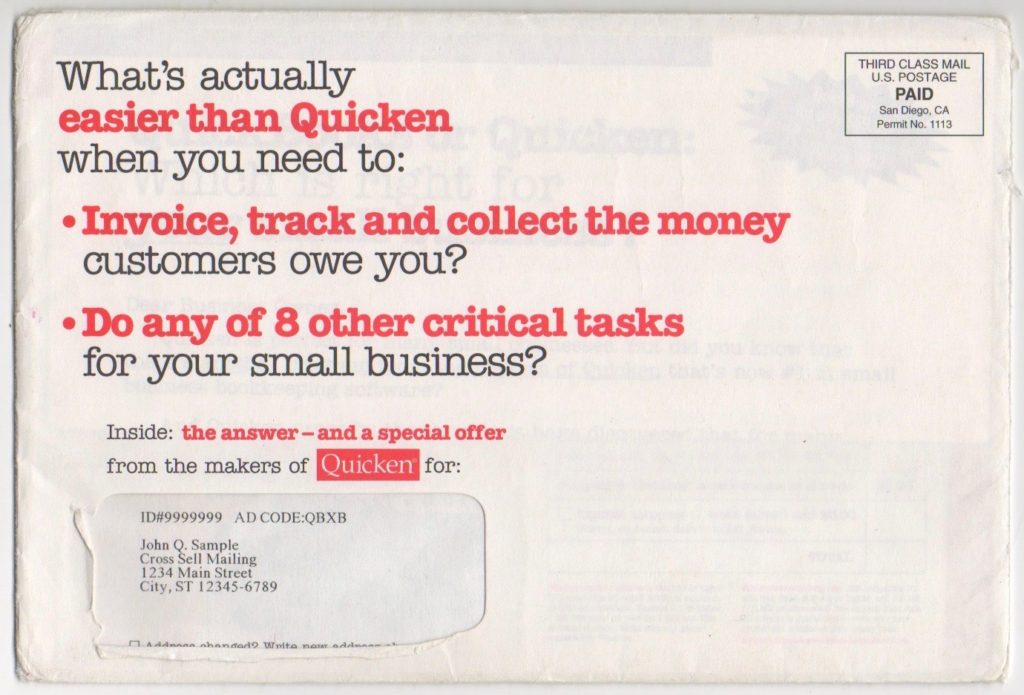 Intuit QuickBooks Technology Copywriting
I am fortunate to have worked with Intuit many times over my career as a freelance technology writer. In 1994, I created the first successful direct mail package for QuickBooks addressed to Quicken users where others had failed. In fact, the Creative Director at Intuit later told me that this DMP became the "Control" package against which other mailings were judged for at least 18 months after that. It included:
An oversized envelope to break the clutter of #10 envelopes accounting software users typically received.
A two-sided, one-page personalized letter.
A large, fold-out poster that explained situations when someone should use QuickBooks vs. when they should use Quicken.
A call to action / response form.
A Business Reply Envelope.
And a lift note to further convince them to try QuickBooks at no obligation for 30 days.

Second, a few years later, I created this 32-page QuickBooks Catalog for Envelopes, Supplies and More that were compatible with Intuit software. Download Part I (PDF). Download Part II(PDF).
Third, the client liked that catalog so much that they hired me as a freelance tech writer to create the copy for a 77-page website to buy the same types of products highlighted in the catalog: IntuitMarket.com/quickbooks. Since I wrote it, the site has been updated but many of my product descriptions remain.
Fourth, I also wrote a QuickBooks New User Kit and six other projects for Intuit.
Fifth, I crafted over 135 posts for the Intuit Small Business blog and the Intuit Go Payment Blog, which have now been combined as the QuickBooks Resource Center.
Finally, I created a 250-term Small Business Dictionary for Intuit, now called the Business Dictionary.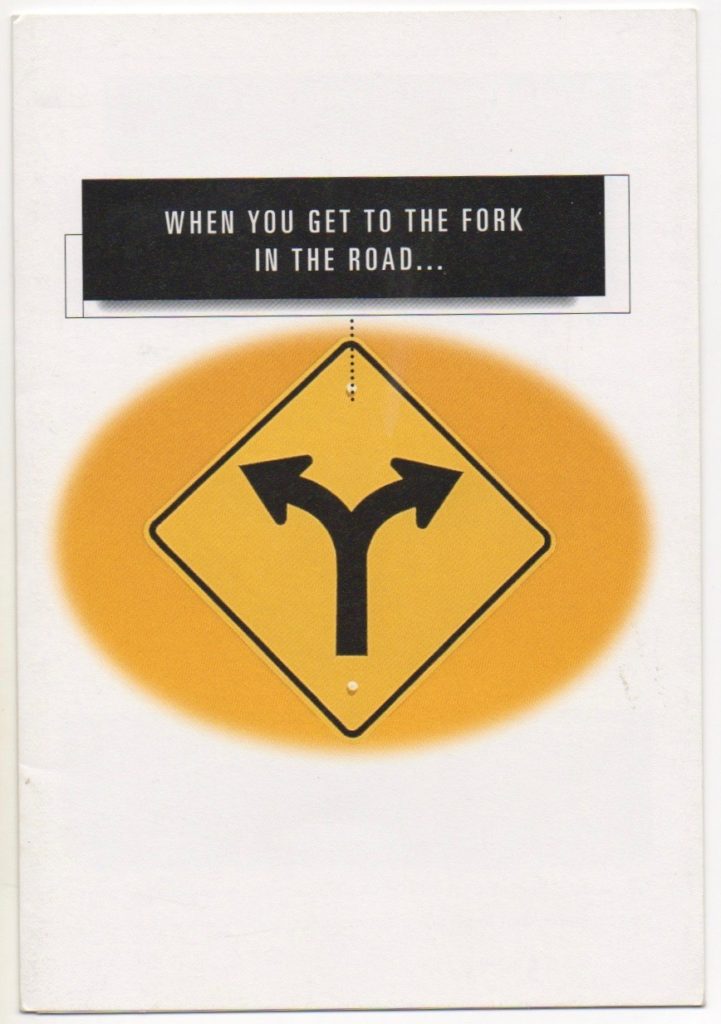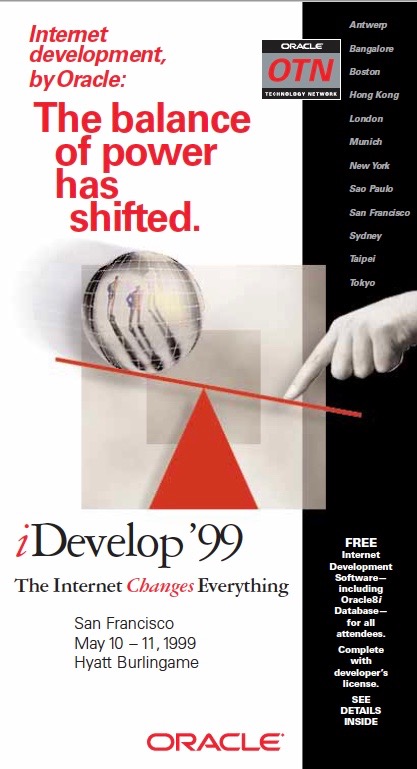 Oracle Copywriting
I have been selected to write several projects for Oracle, including this OLAP (On-Line Analytical Processing) Self-Mailer shown on the left. This was a very technical project about Oracle's solution.
To entice the reading audience with a bit of humor, we showed a few traffic arrows and the headline coined by Yogi Berra, "When you get to the fork in the road, take it." The inside panel's copy then read, "After all, both roads lead to Oracle, the Open OLAP Solution.
Oracle iDevelop '99 Self-Mailer — To announce a worldwide series of conferences in 13 cities, I wrote this six-panel self-mailer shown on the right that only required a black plate change on one side to update the host city.
I heard from my client that because of this importance of this particular direct mail project, Larry Ellison personally approved the copy and layout. This mailer also included information about Oracle 8i, the world's first Internet database, info about 3 technical tracks, 6 hands-on sessions, a $200 Early Bird software savings with a $200 limited-time offer on software, and a registration form. Download Oracle iDevelop Self-Mailer (PDF).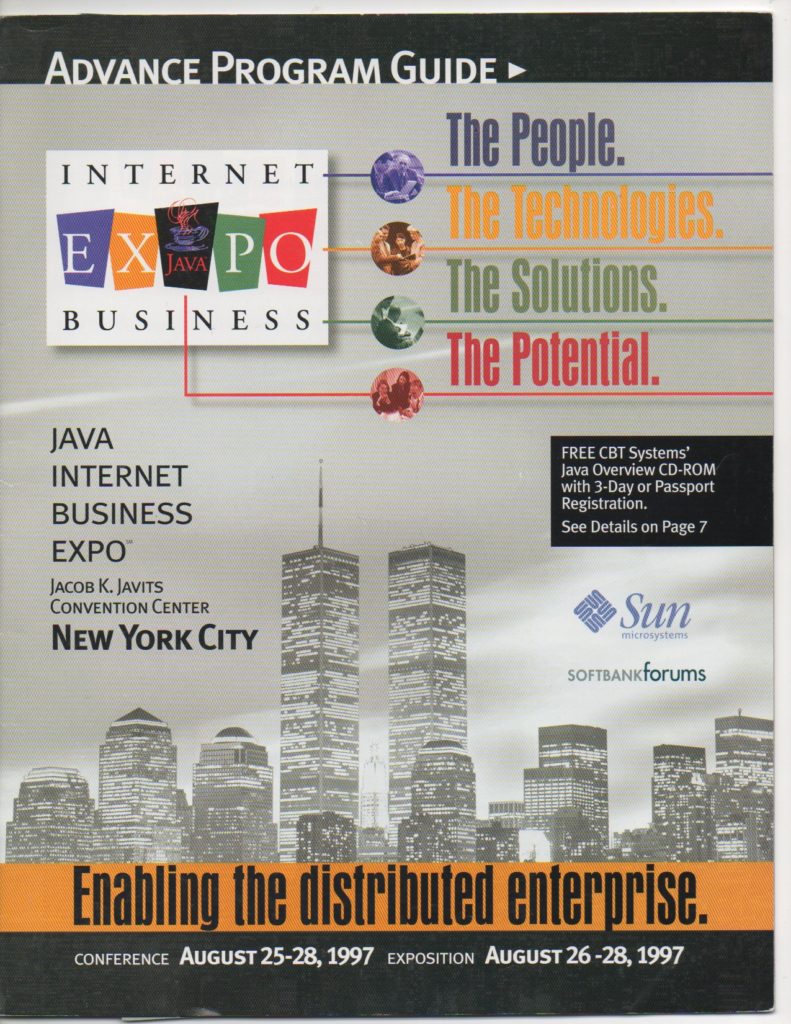 Sun / Java Internet Business Expo Copywriting
This was an expansive project that involved all types of my freelance technology copywriting services to announce the first Java Internet Business Expo.
The 11-piece campaign that kicked off with tech writing best practices for an all-encompassing 20-page 9″ x 12″ program brochure that included a letter from the VP / General Manager, an Event Overview, Event At A Glance, Keynote Speakers, Special Programs, the Main Conference and Late-Breaking News Sessions, Peer Picks, Exhibitors, Exposition Events, as well as Hotel, Air and Car Information, plus a Housing Registration Form and a Conference Registration Form.
There were also a smaller self-mailer, a large format wall poster, two full-page trade ads, several postcards, :60 radio scripts, and a three-email campaign.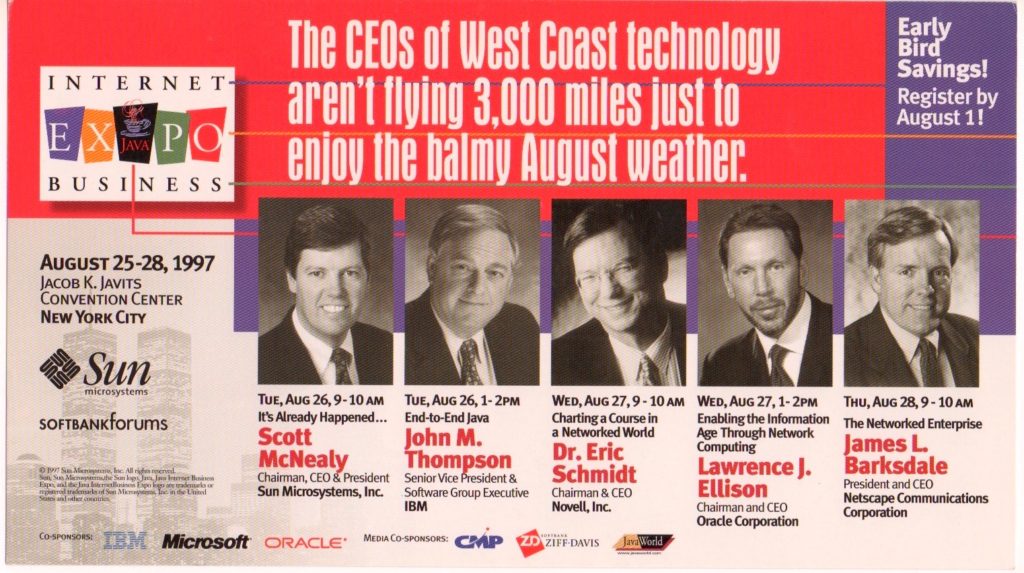 This postcard  was the last touchpoint as a final convention enticement with "$399 of Cool Stuff – FREE!"
The results? All of these elements combined to draw more than 13,000 JAVA enthusiasts to New York City during the hottest, most humid time of the summer.
Adobe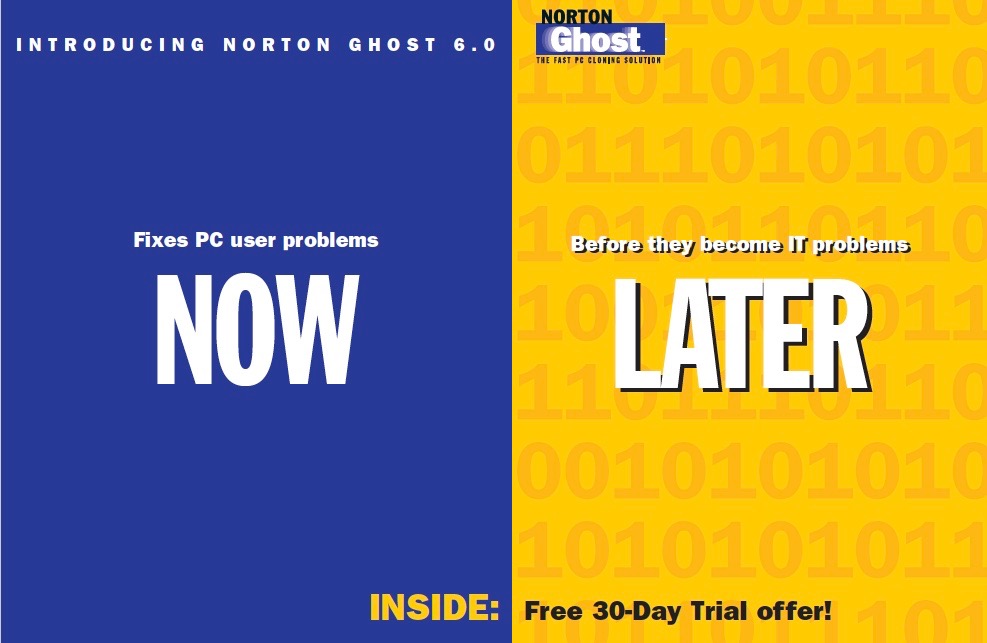 Norton Ghost 6.0 Direct Response Mailing
This direct response package had all the typical elements of a mailing for a corporate software package with an outside envelope, personalized letter, three-panel brochure, response device and Business Reply Envelope.
It was mailed to IT Managers, but the twist was a strong offer of a 30-day free trial for this product that would help them "Fix PC user problems now before they became IT problems later." Of course, once they started using the product to replicate crashed desktops within their enterprise, they were hooked. Download Norton Ghost 6.0 PDF.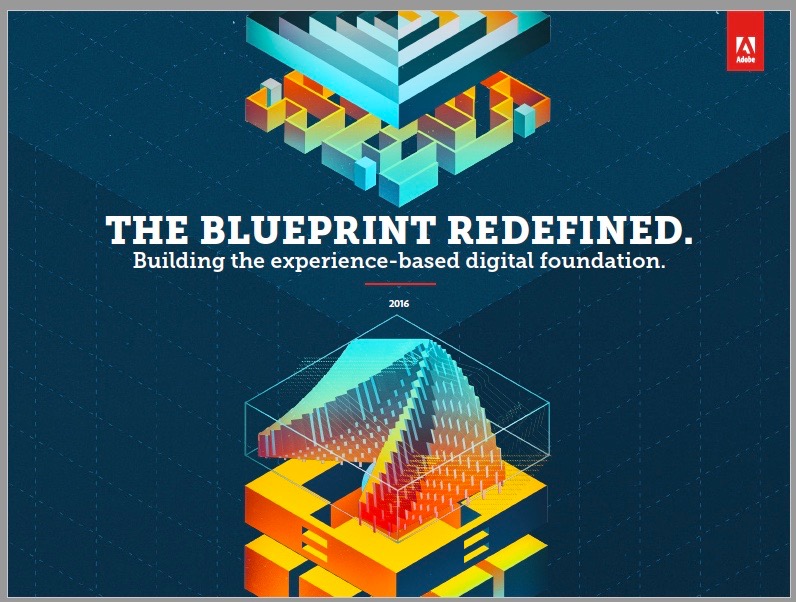 Adobe White Paper
A 26-page project, this was an extremely detailed and important White Paper that delved into "Building the Enterprise-Based Digital Foundation". It incorporated customer expectations, research, an explanation of the new foundation, the experience-based digital infrastructure, several successful digital marketing campaigns, a centralized layer for content and campaign management, common analytics, security, and the final steps you should take with the Adobe Marketing Cloud.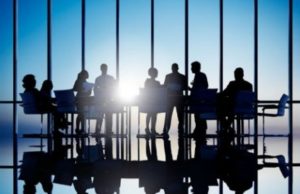 Adobe Round-Table Blog
As a technology journalist, I was invited to attend a San Francisco Digital Executive Roundtable for CMO.com and Adobe, its parent company. Read the entire article
 Intel Copywriting
While it was creating a global audience for its computer chips, Intel dipped its foot into the software industry and asked me to write the packaging for its Create and Share Camera Pack, which was years ahead of the curve.
Adobe Photoshop and iPhoto software eventually took the lions' share of one side of this industry, while Apple  forged ahead in the video phone area, but Intel was extremely brave to be a frontrunner in what they saw to be a huge marketplace. This box contacted an Intel PC imaging camera, video phone software, and Intel Create & Share Software to edit and post photos. Download Front Cover (PDF)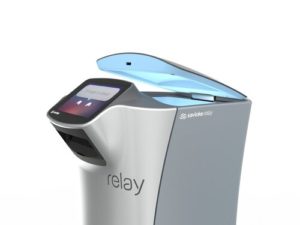 Relay Robotics
This company has created autonomous (self-driving) robots that provide contactless food and package deliveries — in high-rise buildings, hotels, hospitals, logistics companies, and more. Named "Relay", they are three-feet high, weigh about 90 lbs., and can be leased for about $4-5/hour on a monthly basis.
During COVID-19, these service robots are especially in demand because they can be sterilized before and after each run and have a bin that can hold the delivery. Some hotels and hospitals have held employee contacts and given them fun monikers like "Leo and Cleo", "Fabio", and "Spencer" (for dispenser). I write blogs, success stories, web pages, brochures, and data sheets for RelayRobotics.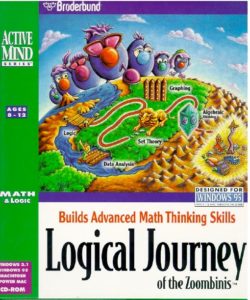 Broderbund Software
One of the most successful technology copywriting projects I ever wrote was one created by Broderbund Software and launched in 1996. They wanted to use these little blue creatures they called "The Zoombinis" and wanted me to name the game, as well as write the software package copy.  Because this was an educational puzzle computer game, I called it "The Logical Journey of The Zoombinis".
I know it was very popular because when my daughter was in elementary school, she asked me to do a show-and-tell of various projects I'd written. When I showed this, every kid in her class had used this software to learn advanced math skills, logical thinking and problem solving.
This game, which won a CODIE Award for Best Home Education Software for Pre-Teens, depicts their search for a new home and features a variety of logical puzzles which each player must solve.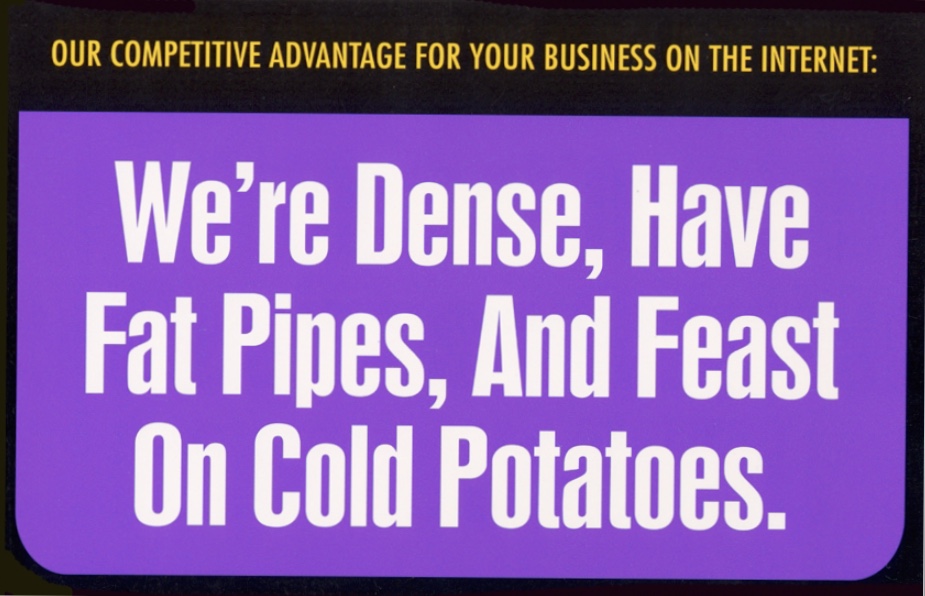 Brainstorm Networks
Brainstorm was a small, privately owned Internet Service Provider on the SF Peninsula. They wanted me to write and manage a direct marketing campaign but had no idea how to approach it or what to mail. I created a tagline of "The Business-Only ISP," then wrote a series of four postcards and recommended that the ymail them once every two weeks to its target audience of businesses in San Francisco and the South Bay.
Their response rates were quite good: 4% for three postcards and 6% for one titled "Does Your ISP Only Serve Business?" on the front and "We Do. They Don't" on the back. Because of the success of this campaign and a second one, RCN bought the company.
Download Postcard #1 PDF: Our Competitive Advantage: We're Dense, Have Fat Pipes, And Feast On Cold Potatoes.
Download Postcard #2 PDF: Dr. DSL'S Recommended Daily Allowance: More Fat & More Fiber.
Download Postcard #3 PDF: Most Businesses Worry About Getting Their Internet Service Up. They Should Really Worry About It Going Down.
Download Postcard #4 PDF: Does Your ISP Only Serve Business?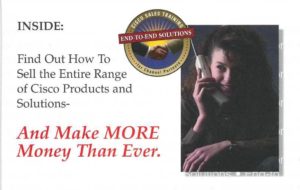 Cisco Systems Self-Mailer for Satellite Training Broadcast
For what was later commonly called a "webcast", Cisco needed a direct mail piece written –- and they needed it quickly. My client's testimonial explains it all: "We needed to make more of an advertising impact for our upcoming Cisco Satellite Training Broadcast. We wanted to get the word out in a hurry, so we decided direct mail and the Web were the way to go. I needed a quick, intuitive, and responsive copywriter. Gil Zeimer would be my choice, since he has proven in the past to be able to go off with minimal direction and get it done fast. The final results confirmed my choice; the mailing went out on time and got a 13% response rate!" – Tina Dupart, Senior Project Manager, Worldwide Training, Cisco Systems Download Cisco Self-Mailer PDF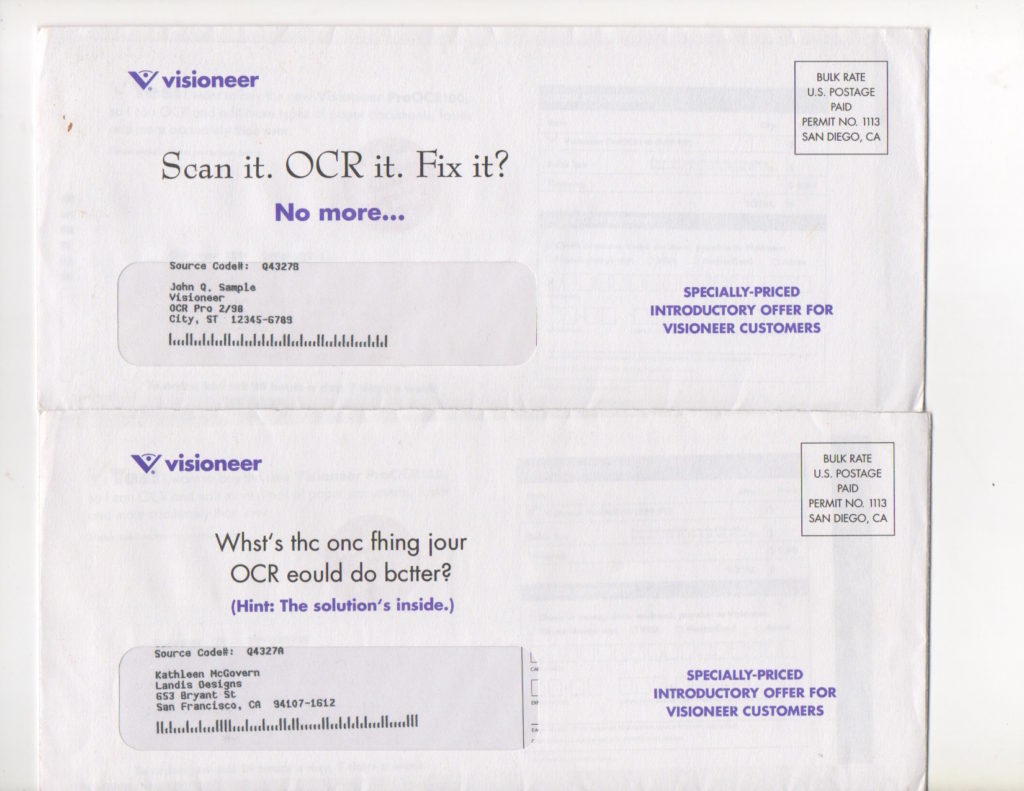 Visioneer Scanners
I worked with the good folks at Visioneer for many years on dozens of direct response technology copywriting projects, from #10 envelope mailers to postcards and self-mailers. My client said this: "Gil thoroughly understands how to convey the most technical features of our products as clear, concise benefits to our users and potential customers. Taking techno-speak and putting it in laymen's terms is one of the many aspects of technical freelance copywriting that Gil has mastered.
"Visioneer's response rates to our direct mail efforts have been outstanding. In fact, one postcard got a 53% response! This can be partially attributed to Gil's ability to clearly communicate the messages and offers to our customers. He's very easy to work with and never fails to meet a deadline." – Barry Peters, Former Product Marketing Manager, Visioneer Scanners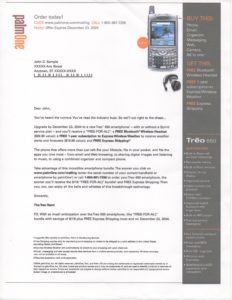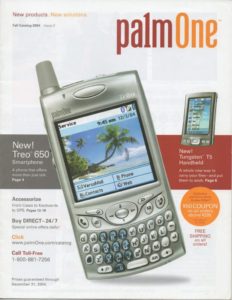 PalmOne Products
PalmOne was one of the first manufacturers of smartphones. Here are two projects I wrote for them:
1) A direct response letter sent to owners of previous models of PalmOne's Treo smartphones, asking them to upgrade to the newest model with a smartphone bundle, a limited-time offer, and a long list of features. The result sold over $150K worth of Treo smartphones in one month during this promotion. Download Palm DR Letter PDF.
2) A 24-page catalog/magazine to promote all of Palm's SmartPhones, PDAs, handheld software and accessories. Palm printed one million catalogs and smartly sold ad space to Palm-compatible software companies to pay for the printing fees, so any sales they made were pure profit.Download Palm Catalog 1 PDF.Download Palm Catalog 2 PDF.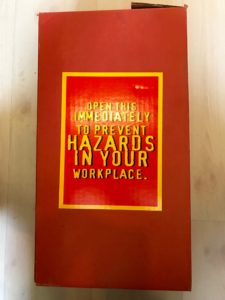 Grimes Company 3-D Direct Response Mailer
My client at this turnkey manufacturing company was one of the best I ever had. She loved working with a blank slate and an unlimited budget to do whatever it took to win new clients. For the first project, I wrote a 3-D mailing that included an oversized box sent to 100 potential technology clients, a real fire extinguisher, a cover letter, a pop-up brochure, a lift note and a response postcard with a free $200 hammock offer to "rest easier knowing that your manufacturing was in good hands."
She said, "Working with Gil has allowed us to create high-impact market communications tools with very fast turnaround. In fact, the first direct mail/promotional project he created for us received a 55% response rate. Gil offers the unusual combination of exceptionally creative ideas as well as meticulous attention to detail and prompt follow-up. I personally enjoy working with Gil. He always shows responsiveness to time schedules, budgets, and reaching the creative level. I can truly recommend Gil for any project." – Hannah Kain, Former Chief Operating Officer, Grimes Company, The Total Turnkey Solution
Essention Website Copywriting
A couple of very savvy Microsoft Technologists knew how to solve problems with intranets and websites that caused problems for their clients who included Biotech, Government, Technology, and Financial Services giants.
But they didn't know how to write an IT website. This referral from Lauren Deane Evans of Good Looking Ideas solved that problem for Essention.co.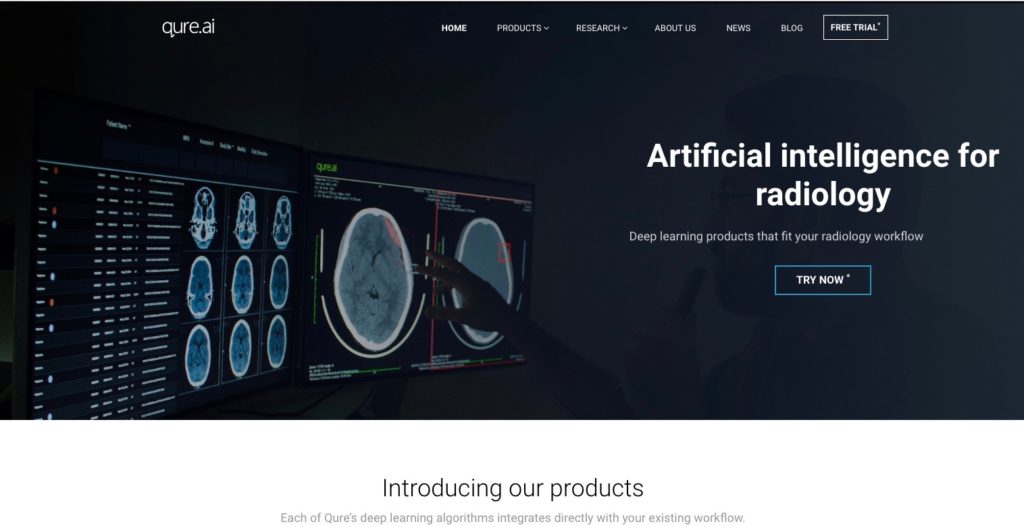 Qure Artificial Intelligence Website
This client was an affiliate of a long-time data analytics company in India. I wrote the first version of its website, which was partially revised recently. The company uses artificial intelligence and deep learning to make healthcare more accessible and more affordable for clinicians and their patients. They work with specialists to define clinically relevant problems and design real-world solutions. View website.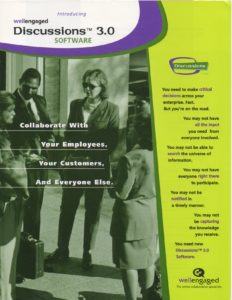 Discussions Software Sell Sheet
"The ultimate validation of your Discussions 3.0 sell sheet was when our Director of Business Dev (and sales) said it was fantastic — the best copy and design she'd seen ever.' Great job. I appreciate both of your efforts to work at it and shape it." – Anna Mellilo, Former Vice President, Marketing, Well Engaged, LLC Download Discussions Software Sell Sheet PDF