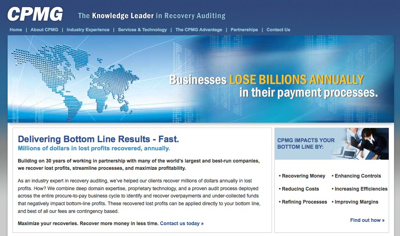 This project was a fourth-tier referral through BNI Embarcadero.
I worked with the owner of Corporate Performance Management Group in Arizona to write and edit his 25-page website to showcase his decades of expertise in recovery auditing.
We positioned CPMG as "The Knowledge Leader in Recovery Auditing" because he has a proven track record of helping his corporate clients recover millions of dollars in overpayments annually.
CPMG's services include:
• Recovering Money
• Reducing Costs
• Refining Processes
• Enhancing Controls
• Increasing Efficiencies
• Improving Margins
This site was hard-coded by Cosgrove Creative in Minnesota.