As a San Francisco freelance copywriter, I've written dozens of catalogs over my career. Below is a sampling of the most recent ones:
Discovery Channel School: Science Collections Grades 5-9, Spring 2000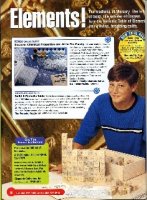 I helped an East Coast agency win this account in 1999 when I wrote a 32-page catalog for Science Collections for Middle School teachers. It included summaries of Student Activity Books, CD-ROMs, Videos, Teachers A-Z Resource Books, Hands-On Activities and Web Guides for Physical, Life and Earth Sciences. The following year, the catalog was expanded to 60 pages. Download Discovery Channel Cover, Spring 2000 PDF
Download Elements: Page 1 PDF
Download Elements: Page 2 PDF.
Download Bacteria: Page 1 PDF.
Download Bacteria: Page 2 PDF.
US Dentek
U.S. Dentek dental products challenged my writing and organizational skills by requesting a combination 12-page catalog/sales brochure to introduce its Breath Remedy line of products, which we called "The World's First Fresh Breath Kit."
This consumer/trade brochure included a complete home oral breath care system with a daily regimen kit with the entire line of Breath Remedy products: Toothpaste, Tongue Scraper, Tongue Spray, Breath Drops and Mouth Rinse. The last few pages of the catalog were for the company's established products like Dental Piks, Tartar Scrapers, Dental First Aid Kits, and more.
Download Catalog Covers PDF.
Download Catalog Inside Pages PDF.
Cayson Culinary Designs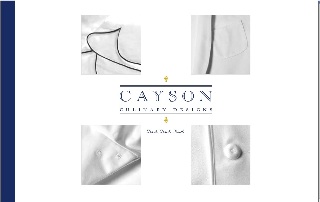 In June of 2005, Cayson Culinary Designs wanted a catalog/brochure to showcase their high-end chef's and server attire used by America's top restaurants. The unique cover utilizes a sculpted paper printing process to define the details.The client loved the brochure so much, it became the template for her updated Web site.
Palm 2004 Winter Catalog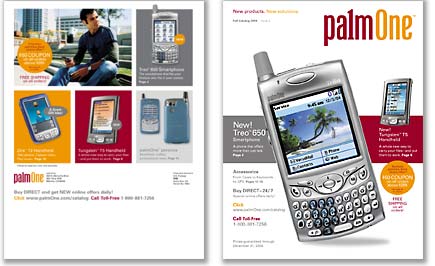 Palm wanted to create a catalog/magazine to promote its most recent SmartPhones, PDAs, handheld software and accessories. So I was hired to write this 24-page catalog for PalmOne in November 2004 to boost holiday sales. Palm printed 1,000,000 catalogs and sold advertising space to Palm-compatible software companies to offset the printing fees. Kuleana Design (formerly Landis Design), SF, created the fantastic design and managed the project.
Download Adobe PDF of pages 1-11 and 24 (back cover).
Download Adobe PDF of pages 12-23 (back cover).
Palm 2003 Winter Catalog

Palm printed 500,000 of this 24-page holiday 2003 "magalog" that blended traditional catalog copy with magazine-style articles.The goal was to sell the latest, greatest products � TREO smart phones, Palm Tungsten and Zire handhelds, plus software and accessories. Kuleana Design (formerly Landis Designs), SF provided the beautiful layouts for this 24-page piece for which I wrote the catalog copy.
Download Adobe PDF of the 2003 Palm Catalog.
Intuit QuickBooks In-Box Catalog
During 2006, I wrote a dozen projects for the good people at Intuit, including this QuickBooks 32-page Catalog for Checks, Envelopes, Supplies and More, and the companion Intuit Market Website for all these products.
In fact, in 1994, I successfully introduced Quicken users to QuickBooks in the first direct mail piece ever written for this financial product that's long been the leader in the business software field.

This catalog was mailed to anyone who was a new QuickBooks customers to tell them about the vast array of checks, envelopes, supplies, and more. Best of all, all of these products are compatible with Quicken and QuickBooks software. Download Part I of the Catalog (PDF).


Download Part II of the Catalog (PDF).