Besides the radio spot I wrote for Hooked on Phonics that you can hear here, I also wrote a few very successful HTML email blasts for them to test with very targeted messages through QuestUs, a San Francisco interactive ad agency.
The first was to save $50 with an exclusive online offer. Read the HTML email copy.
The second was to make their child a better reader over the next four weeks.
Read the HTML email copy.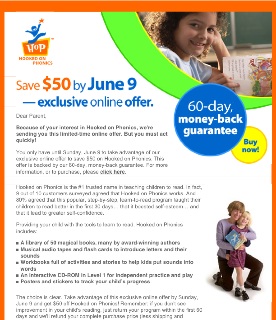 As with most direct marketing copy, we used similar elements in both of these emails, but the priorities were shifted in one headline and subhead vs. the other to test which of these would gain the higher response rate.
The winner? The $50 offer direct marketing copy and headline, but both had high click-throughs and response rates for a massive HTML email blast.