My good friend and BNI Embarcadero colleague, Bart Saling, recently asked me to totally update the website copy for Bridge To Bridge Technologies.
The result is a 48-page site that details his service offerings as a Cisco partner for a comprehensive range of communication solutions to enhance any small- to medium-sized organization located in the San Francisco Bay Area.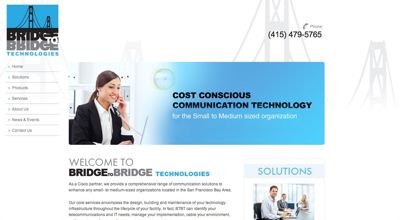 Included in his core services are:
The design, building and maintenance of your technology infrastructure throughout the lifecycle of your facility.
Solutions to Optimize Your Network, Connect Employees and Offices, Secure Your Business, and Communicate from Anywhere.
Products from Cisco and Raptor Business Continuity.
Services that include Consulting, Managed and other Professional Services.
The purchase and delivery of a company's telecommunications and IT needs.
Managing your implementation, cabling your environment, and even supporting your end users.
For more information about the solutions, products and services available at Bridge to Bridge Technologies, please contact Bart Saling at 415-479-5765.
Designed by the incredibly talented Lauren Deane Evans of Good Looking Ideas.