Dear Marinero Condos HOA Neighbor,  (EMAILS SENT 5/7 and 5/23)
How to Opt-Out.
Every Board Member at 28 Marinero Circle has opted out and their Smart Meters have been removed. Your HOA Board now strongly recommends –– in your interest and for the health and safety of others –– that all owners follow our example to opt-out of PG&E Smart Meters, ASAP, to mitigate any possible fire, injury, illness, or other damages to persons, property, and/or our community.
All your need is your customer name, address, daytime phone number, email, and your PG&E account number. It should only take about two minutes and you can do it yourself here at the utility's website: tinyurl.com/2uzr5wv7
Once you opt-out, PG&E will charge your next bill an additional $75 – which we will reimburse. You will also be charged $10/month for 36 months. There will be no further Smart Meter fees.
The Sooner You Opt-Out, The More You'll Receive.
The HOA will reimburse the $75 initial fee if you opt-out by June 7, 2022.
Or if you opt-out after June 7, 2022, the reimbursement would be reduced to $37.50. 
Either way, you must send the Board your PG&E statement showing "SmartMeter Opt-Out Initial Fee $75" (per the attached sample invoice), or a photo of your meter with the Smart Meter removed (per the attached; my meter is #30), along with your completed Check Request Form (attached as PDF). Please email this information to me and I'll forward it to Eugene Berger Management Company.
Need Help Opting Out? Let's Talk or Zoom.
As your HOA Board President, I will be your "Smart Meter Concierge" to help fellow owners opt-out. I'll set up a phone or Zoom call to take you through the PG&E Opt-Out Page Form. Email gil@zeimer.com or call/text me at 415-246-6072 for help.
About Smart Meters.
As you can see for yourself at the US government's website below, the National Toxicology Program of the National Institutes of Health in what we understand to have been a $25 million, 30-month study, found that exposure of rodents to cellular radiation caused the formation of cells which cause glioblastoma and acoustic neuromas in humans:
https://ntp.niehs.nih.gov/whatwestudy/topics/cellphones/index.html 
After reviewing this study, which advises that Smart Meters can emit continuous, substantial radiofrequency radiation, we feel that the best Internet source on this subject is at Environmental Health Trust ––  www.ehtrust.org –– which was established by the pioneering epidemiologist Devra Davis, PhD, MPH.
The Potential Harm Caused by Clusters of Smart Meters.
PG&E testimony states that there are "9,600 to 190,000 transmissions or pulses per day at each meter". We have 37 pairs of gas and electric Smart Meters at 28 Marinero Circle and another 13 of each at 99 Lyford Drive. These clusters of 4 to 19 Smart Meters (see attached photo and map) emit far more radiation than individual meters.
Additional Background Information.
For very detailed information, see the attached letter from a UC San Diego Professor of Medicine to former Governor Jerry Brown detailing the health effects and symptoms caused by electromagnetic radiofrequency radiation.
Again, your HOA Board recommends that you opt-out from having PG&E Smart Meters. If you opt-out by June 7, 2022, the HOA will reimburse your $75 initial fee. Or if you opt-out after June 7, 2022, the reimbursement would be reduced to $37.50.
Please contact Gil at your convenience by phone or email to help you do this and make our community safer.
PS: If you're an owner and you opt-out, please consider discounting your tenant's rent $10/month for 36 months to compensate for PG&E increasing their bills.
Best regards,
Gil Zeimer
Marinero HOA Board President
gil@zeimer.com
415-246-6072
28 Marinero Circle, #30
Tiburon, CA 94920
PS: The six email attachments include:
1) Sample PG&E Smart Meter Opt-Out Owner's Bill (jpg)
2) Photo of two PG&E gas meters #32 still has a Smart Meter; #30 has opted-out) (jpg)
3) Photo of Smart Meter cluster of 18 gas meters (jpg)
4) Check Request Form for $75 HOA Reimbursement (pdf)
5) Smart Map (jpg)
6) UCSD Letter (pdf)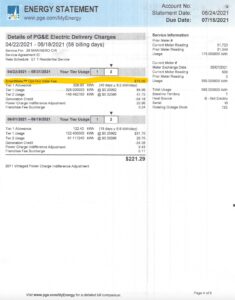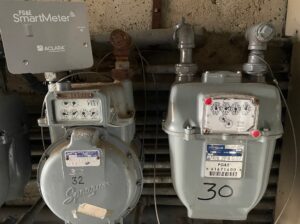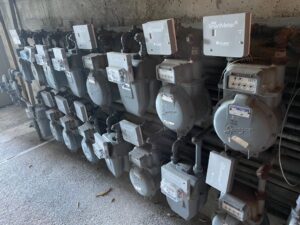 Opt-Out Check Request Form (PDF)