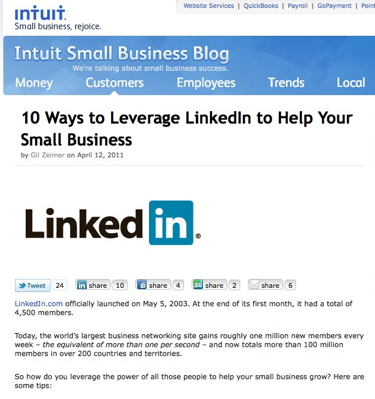 This article first appeared at blog.intuit.com on April 12, 2011.
LinkedIn.com officially launched on May 5, 2003. At the end of its first month, it had a total of 4,500 members.
Today, the world's largest business networking site gains roughly one million new members every week – the equivalent of more than one per second – and now totals more than 100 million members in over 200 countries and territories.
So how do you leverage the power of all those people to help your small business grow? Here are some tips:
1) Link, Link, Link – Your network's size is essential. When your LinkedIn profile page shows photos, names and companies of "People You May Know," there's a high probability that someone you know is linked to them, or you may even know them directly. If so, click "Connect" and send them an invitation to join your network. Keep adding to your network to build up your contacts. Your network also relies on everyone else's network: It's better to connect with others who have hundreds of people over those with just a dozen.
2) Give Your Profile 100 Percent – First, make sure your LinkedIn Profile is 100 percent complete with name, industry, location, photo, headline, summary, current and past positions, your contacts, and a number of recommendations. Next, on your Profile page, click "Make My Public Profile Visible" to let people see everything you've created.
3) Ask For and Give Recommendations – If you hope to get business via your page, be proactive about trading recommendations with your colleagues. These endorsements give you credibility to people who may not know you and work as a static "word of mouth" recommendation.
4) Review Your LinkedIn Update Emails – I spend 15 to 30 minutes a week reviewing the names on my LinkedIn email update. Last year, I saw that a colleague from a company where I had worked 10 years ago had a new job at an ad agency. I invited her to join my network. Within a week, she hired me for to write the first of an ongoing set of projects.
5) Don't Be Shy – If you want to meet someone who's out of your network, ask for introductions to friends who are connected to them. This is always more powerful than an unsolicited invitation to link with you.