What's New?
Recycled Creativity
A Recent Success Story
Humor Is A Funny Thing
Ads I Like
Why I Love Referrals
About Zeimer's Advertising Shoppe
What's New?
As a freelance San Francisco copywriter, here's what I've been doing since my May 2011 newsletter:
I've written 10 more articles for the Intuit Small Business Blog. The total now is 90 over the past six months.
Wrote and edited the copy for a 30-page site for a leading downtown San Francisco cosmetic and general dentist, Dr. Michael Hack.(See below for more info.)
Edited the copy for a local college advisor's website with a wealth of information for any student or family with a high school junior or senior.
Wrote four projects for a leading healthcare company through a Southern California direct marketing agency.
Had an idea for parody song lyrics for our BNI Embarcadero weekly meeting to pass word-of-mouth referrals.
Created a complete marketing campaign for an East Coast urgent care clinic.
Wrote more posts –– now 50 –– for GroupPrice.com/blog, a site that's like Groupon for small businesses by offering daily discount deals with savings of 30 to 75%.
Plus, miscellaneous projects for friends and colleagues.
Read past issues of Zeimer's NewZletter: May 2011 • March 2011 • Nov 2010 • July 2010 • April 2010 • December 2009 • October 2009 • August 2009 • July 2009 • March 2009
Recycled Creativity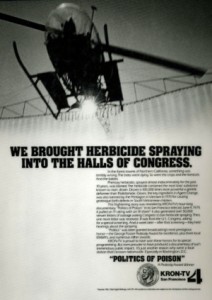 As a Certified Green Bay Area Business, I took a pledge to reduce my carbon footprint by using recycled products and services wherever possible. To that end, I'm recycling some of my past successes as a freelance copywriter in each of these newsletters.
Here's an example: KRON-TV NewsCenter 4, San Francisco
When I worked at Ketchum Advertising in San Francisco (now TBWA\Chiat\Day), one of our busiest accounts was KRON-TV NewsCenter 4. This full-page ad's headline for Broadcasting Magazine grabbed the attention of readers about a horrific event. Since this ad was created before the days of computers and PhotoShop, Art Director Roy Omi hired S.F. photographer Armando Diaz, who had a helicopter pilot spray water over a rural field as he stood below.
The first two paragraphs read, "In the forest towns of Northern California, something was terribly wrong. The trees were dying. So were the crops and the livestock. And the babies.
"Phenoxy herbicide, sprayed almost indiscriminately for the past 10 years, was blamed. The herbicide contained the most toxic substance known to man: dioxin. Dioxin is more than 100,000 times more powerful a genetic deformer than Thalidomide. Dioxin, the key ingredient in Agent Orange, was also banned by the Pentagon in 1970 in Vietnam for causing grotesque birth defects in South Vietnamese children."
This ad had three purposes: to let braodcasters know that this 60-minute special report was now available for syndication, to tell them that this documentary had won a prestigious Peabody Award, and most importantly, to alert the public that NewsCenter 4 had shined a spotlight so brightly on this problem that it generated 50,000 letters of outrage from Bay Area viewers who asked Congress to ban herbicide spraying. This prompted the U.S. Congress to investigate the situation. Download "Politics of Poison" Ad PDF.
A Recent Success Story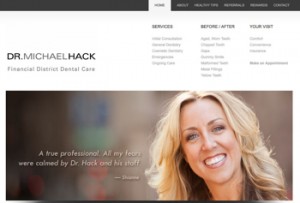 As mentioned above, I recently revised the content for a 30-page Website as part of a cosmetic makeover for a cosmetic and general dentist.
This project was a collaboration of the extremely talented BNI Embarcadero "Marketing Makeover Team". Working closely with our client, we rebranded his site to "Dr. Michael Hack, Financial District Dental" to highlight the respected professional who has built his practice since 1972 in downtown San Francisco.
The team included a number of all-star veterans: a marketing guru, a terrific photographer, a talented art director, a proficient WordPress webmaster, a great publicist, a focused SEO expert, and an experienced copywriter (moi).
Humor Is A Funny Thing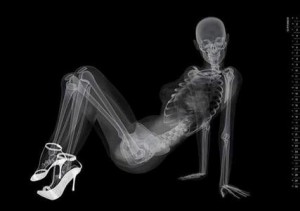 This month, I'm highlighting the First Annual "Miss TSA" Calendar. It's X-rayed, not X-rated and absolutely hilarious.
What I find amusing is that it uses women in high heels in the normal cheesy poses, but you only see their skeletons.
If I have to explain it further, it's just not worth the visual jokes.
Ads I Like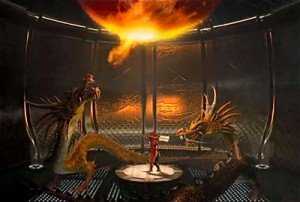 This is a new section to my newsletter. Here, I'll tip my hat to other creatives, from one award-winner to another.
A friend in Oregon sent me this YouTube link to a two-minute, 3-D TV commercial for Sapporo Beer.
I think it's like watching an adventure movie with a satisfying, thirst-quenching ending. I strongly suggest that you view it in full screen with your speakers turned up to optimize your experience. Domo arigato!
Why I Love Referrals
Last year, over 70% of my revenue came from referrals through Business Network International chapters in North America. The majority of my income came from my colleagues at BNI Embarcadero , the largest word-of-mouth referral chapter on the West Coast. We meet every Wednesday from 715 – 9am at L'Olivier French Restaurant, 465 Davis Court (between Washington and Jackson Streets), San Francisco, CA 94111. If you'd like to join us for a meeting, please contact me. Speaking of referrals, I received some recently for possible projects with some potential clients outside of and within my chapter.
By the way, the Intuit Small Business Blog, several other recent Intuit projects, the GroupPrice.com/blog, and the two websites mentioned above were all the result of referrals from people in BNI chapters.
About Zeimer's Advertising Shoppe
Zeimer's Advertising Shoppe is an award-winning writing consultancy and ad agency. As a freelance San Francisco direct response copywriter, email and newsletter copywriter, website copywriter, and healthcare copywriter, I create content for ads, brochures, direct response/email campaigns, radio and TV scripts, White Papers, newsletters, and more. For information or to receive an estimate on your next project, contact me via email or call 415.491.1058.
© 2011. Zeimer's Advertising Shoppe. All Rights Reserved.