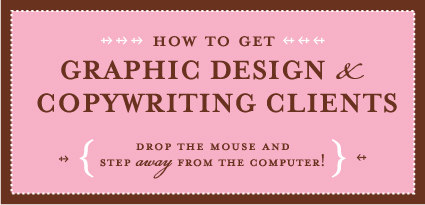 (Graphic reprinted courtesy of Orma Design.)
Gil Zeimer and Zeimer's Advertising Shoppe were just mentioned in a story in the SF Examiner: How to Get Graphic Design and Copywriting Clients: Drop the mouse and step away from the computer by Stephanie Orma.
For the creative industry, in which 99.9% of the time is spent interacting with a computer, it seems ironic that the success of the business itself is so vitally dependent upon the real and meaningful interactions with people and NOT computers. What does this mean exactly? It means we (graphic designers, copywriters, creatives, etc.) have to actually venture out beyond the glow of the computer monitor to obtain clients. But don't take it from me.
I picked the brains of three stellar creative firms who know a thing or two about getting clients and building successful businesses: Jennifer Bostic, owner and creative director of Paper Plane Studio; Lanny Udell, owner and chief writer of Copywhiz; and Eric Heiman and Adam Brodsley partners and co-founders of Volume Inc.
Moderated by San Francisco graphic designer and copywriter Stephanie Orma of Orma Design and She's SO Creative, the three studios share their personal experiences, insights, and advice on the best means of landing graphic design and copywriting clients. Read More..