For freelance direct response copywriting, I have over 20 years of experience across all media, including postcards, self-mailers, ads, radio, TV, online banners, and direct response packages. Below are a variety of examples of my creative skills for direct response copywriting.
To receive an estimate for your next direct response copywriting project, please contact me today.
Three-Dimensional Direct Response Project for Barclays Global Investors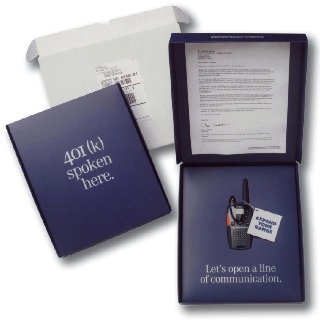 Barclays Global Investors' sales force wanted to send a mailing to Fortune 500 HR managers to expand their pension plan fund base. I was hired by a San Rafael direct marketing agency as a freelance direct response copywriter to help them solve the problem.
I wrote the copy for this three-dimensional package that was sent via 2-day priority mail requiring a receipt signature.The inside box's headline was: "401(k) spoken here." A personalized letter invited the prospect to call a toll-free number to schedule an appointment with a BGI rep. An inbound call center took the calls and scheduled the meetings. On the bottom of the box was one of a set of two two-way radios with the headline "Let's Open a Line of Communication."
In an industry where a 1% response rate is considered good, this mailing garnered an amazing 20%. Of those, almost 25% agreed to an appointment with BGI, resulting in several million dollars in invested funds.
Direct Response Postcards for Brainstorm Networks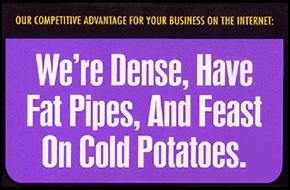 Brainstorm Networks, a South Bay Internet Service Provider now owned by RCN, called on me to write and manage a direct marketing campaign as a freelance direct response copywriter. I branded them as "The Business-Only ISP," then wrote a series of four postcards initially, and had the client mail them once every two weeks to its target audience: businesses in the South Bay and San Francisco.
Their response rates were 4% for the three postcards shown in the animated gif and 6% for the one titled "Does Your ISP Only Serve Business?" on the front and "We Do. They Don't" on the back. Why? Because the latter postcard had a checklist for what brainstorm offered vs. the competitors, making it "interactive".
Download Postcard #1 PDF: Our Competitive Advantage: We're Dense, Have Fat Pipes, And Feast On Cold Potatoes.
Download Postcard #2 PDF: Dr. DSL'S Recommended Daily Allowance: More Fat & More Fiber.
Download Postcard #3 PDF : Most Businesses Worry About Getting Their Internet Service Up. They Should Really Worry About It Going Down.
Download Postcard #4 PDF: Does Your ISP Only Serve Business?
Direct Response Promotional Ad for DHL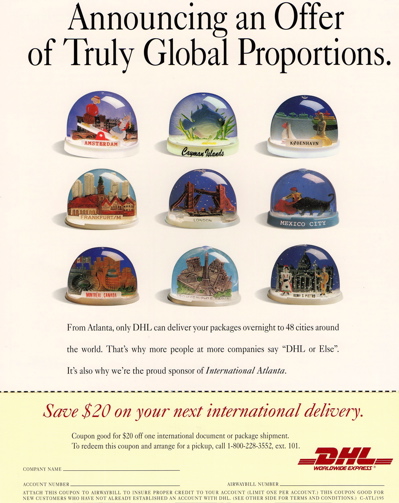 This ad for DHL Worldwide Express delivery services featured $20 savings for "overnight service to 48 cities around the world." The back of the ad featured all of the dozens of pick-up locations in downtown Atlanta to appeal to the recipients of this ad for a trade show. As a freelance direct response copywriter, I love this execution because it's a fun headline married to a great layout for an international shipping company. DHL Promotion PDF.
Direct Response Promotional Ad for FedEx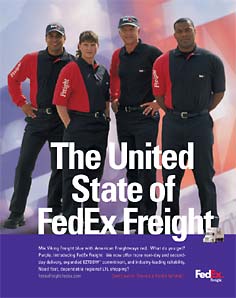 As a freelance San Francisco copywriter, I've created campaigns for a variety of shipping companies, including Viking Freight, DHL, Emery Air Freight, Consolidated Freightways and Greyhound Package Express.
This ad was the announcement of a merger of Viking Freight in the Western states and American Freightways in the Midwest and Eastern states under the name of Fed Ex Freight.
Download Fed Ex Ad PDF.

Direct Response Copywriting for Bank of America
As an Associate Creative Director at Grey Advertising, San Francisco copywriter, I wrote this campaign of three newspaper ads for BofA's Home Loan division. The ads were to have run for six weeks. But after only two, the client asked the agency to stop running them because the phone lines were swamped with a surplus of calls. Offering BofA's lowest rates and the first ever refinancing adjustable rate home loans were also contributing factors to their success.
Bank of America/Nation's Bank Animated Banners – For Carat Interactive Ad Agency, I wrote a bunch of banners for BofA after it became Nation's Bank. (Of course, it's now called Bank of America once again.) See the banners — scroll down to bottom of page.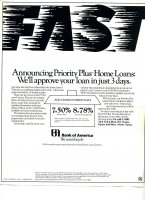 Bank of America Priority Plus Home Loan :60 Radio Commercial and Newspaper Ad — This commercial needed to demonstrate that the bank was committed to approving applicants for adjustable rate home loans in only three business days, rather than weeks. So I found the world's fastest talker in New York City, flew her to SF for a recording session, and hired a male voice actor as her "translator" for this script. You really can hear every word she says if you listen carefully. Click "PLAY NOW" below to hear the "Priority Plus Fast Home Loans" MP3.
Download Priority Plus Home Loan Ad PDF.
Direct Response Ad For Geneology Software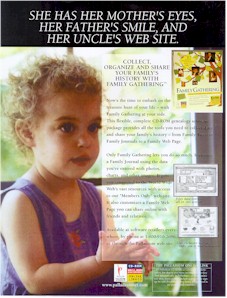 This is one of my favorite ads for two reasons. First, because it's a fun direct response copywriter headline — "She Has Her Mother's Eyes, Her Father's Smile, And Her Uncle's Website". And second,  it features a photo of my daughter Sara when she was about two years old. Download Family Gathering Ad PDF.
Direct Response Postcards for Check Point
During 2006/2007, I wrote a variety of direct response projects for Check Point Software Technologies, an Israeli company with US headquarters in Redwood City, California. This company is a leader in securing the Internet with the worldwide enterprise firewall, personal firewall, data security and VPN markets. Here are some examples of their marketing toolkits, featuring a two-sided postcard, ad and email for each of their software and hardware products. Check Point VPN-1® UTM® Edge Appliances.
Download Postcard Copy PDF Download Ad Copy PDF. View HTML Email Copy

To receive an estimate for your next direct response copywriting project, please contact me today.