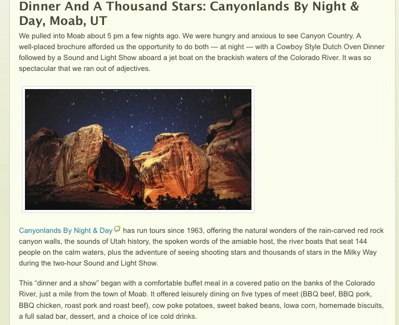 As a dedicated (some might call it "addicted") blogger, one of the first things I learned was to add links to each article. This not only helps its search engine ranking, but it upholds the Golden Rule of reciprocal linking for blogs. "You link to me, I link to you…" that sort of thinking is what makes one blog successful with lots of readers vs. one that's only read by your Mother. (No offense, Pearl.)
So in each blog post, I use at least one link to the product, service or company that I'm referencing. When possible, I add as many links as possible within the blog to give it more credibility.
Here's a great example of a travel blog article I wrote for Vagablond with both a link and a reciprocal link:
"Dinner And A Thousand Stars: Canyonlands By Night & Day, Moab, UT" was a story I created after my family enjoyed a magical night of dinner, a Colorado River cruise, a sound and light show, and the Milky Way shining above, where the rock walls came alive with Indian legends, history and geography.
This was such a wonderful experience that I literally wrote the article when I returned to our hotel room, posted it live, then sent an email to the company that led the trip: Canyonlands River Tours.
A few days later, they posted their reciprocal link on the Articles page of their site. Here's what it looks like…


Note that in this particular blog post, I have used three links.