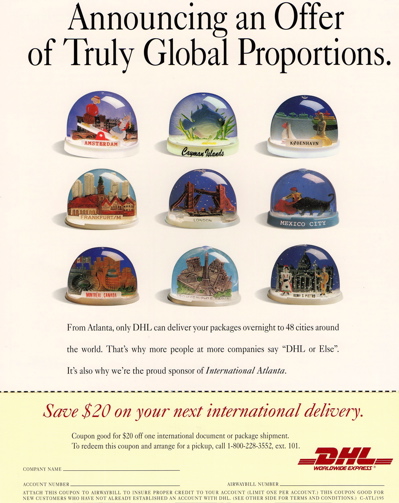 About 10 years ago, I was called by a local ad agency who needed a freelance San Francisco copywriter to craft a promotional ad for DHL Worldwide Express delivery services.
The art director and I started kicking around some concepts. I asked if we could show snow globes of various cities where DHL delivered globally. He said, "That's ironic. I have a huge snow globe collection and I've got about 100 of them here in the office."
The rest is direct response history with this $20 savings ad for "overnight service to 48 cities around the world." The back of the ad featured all of the dozens of pick-up locations in downtown Atlanta to appeal to the recipients of this ad for a trade show. As a freelance copywriter, I love this execution because it's a fun headline married to a great layout for an international shipping company.