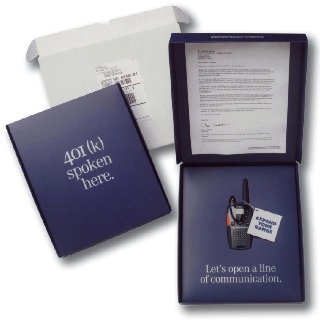 The Company: Barclays Global Investors is an investment management subsidiary of U.K.-based Barclays Bank. It's the largest corporate money manager in the world, with over £1.04 trillion (US$2.08 trillion) under management as of October 2007. The division is headquartered in San Francisco with research and portfolio management teams in London, Sydney, Tokyo, Toronto and other cities.
The Challenge: BGI's sales force wanted to send a mailing to HR managers to expand their pension plan fund base. They targeted Fortune 500 companies. I was hired by a San Rafael direct marketing agency as a freelance direct response copywriter to help them solve the problem.
The Solution: I wrote the copy for this three- dimensional package that was sent via 2-day priority mail requiring a receipt signature. As you can see, the inside box's headline was: "401(k) spoken here."
Inside the oversized box, a personalized letter was taped to the inside top of the box. The letter invited the prospect to call a toll-free number to schedule an appointment with a BGI rep. An inbound call center took the calls and scheduled the meetings.
On the bottom of the box was one of a set of two two-way radios with the headline "Let's Open a Line of Communication."
The Results: In an industry where a 1% response rate is considered good, this mailing garnered an amazing 20%. Of those, almost 25% agreed to an appointment with BGI, resulting in several million dollars in invested funds.
Personally, this was one of my most honored projects as a freelance direct response copywriter, earning the agency a 2001 Gold International Echo Award for B-2-B Financial Products and Services, Dimensional Mail. It also was recognized with:
— A Finalist in the 2000 John Caples International Awards
— A Silver in the 2001 Showcase of Print Excellence
— A Bronze from the International Association of Printing House Craftsman 2001 International Gallery of Superb Printing.