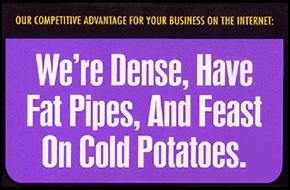 THE PROBLEM
Brainstorm Networks, a South Bay Internet Service Provider now owned by RCN, called on me to write and manage a direct marketing campaign. But they didn't know if they should mail letter packages, postcards or what.
THE SOLUTION
I branded them as "The Business-Only ISP," then wrote a series of four postcards initially, produced them, gang printed them, and had the client mail them once every two weeks to its target audience: businesses in the South Bay and San Francisco.
THE RESULTS
Their response rates were 4% for the three postcards shown in the animated gif and 6% for the one titled "Does Your ISP Only Serve Business?" on the front and "We Do. They Don't" on the back. Why? Because the latter postcard had a checklist for what brainstorm offered vs. the competitors, making it "interactive".
Download Postcard #1 PDF: Our Competitive Advantage: We're Dense, Have Fat Pipes, And Feast On Cold Potatoes.
Download Postcard #2 PDF: Dr. DSL'S Recommended Daily Allowance: More Fat & More Fiber.
Download Postcard #3 PDF: Most Businesses Worry About Getting Their Internet Service Up. They Should Really Worry About It Going Down.
Download Postcard #4 PDF: Does Your ISP Only Serve Business?