As a San Francisco copywriter, I've been an ad agency staff and freelance copywriter for virtually every financial institution in California, from Bank of America and Wells Fargo to Charles Schwab, Visa, and some dot coms, like Yodlee and Intuit.
Here are my favorite ads, ad banners, and radio commercial that I created as a San Francisco copywriter and direct marketing copywriter for Bank of America.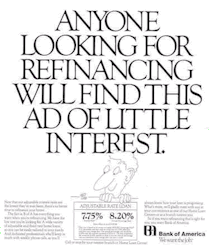 1) Bank of America — As an Associate Creative Director at Grey Advertising, San Francisco copywriter, I wrote this campaign of three newspaper ads for BofA's Home Loan division. The ads were to have run for six weeks. But after only two, the client asked the agency to stop running them because the phone lines were swamped with a surplus of calls. Offering BofA's lowest rates and the first ever refinancing adjustable rate home loans were also contributing factors to their success.
Download Ad #1 PDF
Download Ad #2 PDF
Download Ad #3 PDF
2) Bank of America/Nation's Bank Animated Banners – For Carat Interactive Ad Agency, I wrote a bunch of banners for BofA after it became Nation's Bank. (Of course, it's now called Bank of America once again.) See the banners — scroll down to bottom of page.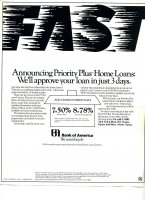 3) Bank of America Priority Plus Home Loan :60 Radio Commercial and Newspaper Ad — This commercial needed to demonstrate that the bank was committed to approving applicants for adjustable rate home loans in only three business days, rather than weeks. So I found the world's fastest talker in New York City, flew her to SF for a recording session, and hired a male voice actor as her "translator" for this script. You really can hear every word she says if you listen carefully. "PLAY NOW" to hear the "Priority Plus Fast Home Loans" MP3.
Download Priority Plus Home Loan Ad PDF.