I've written direct response packages, promotional postcards, self-mailers, conference announcement mailers, and HTML emails for a wide variety of software clients, including Oracle, Symantec (Norton), PalmOne, Intuit, and more.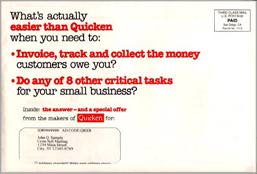 Here are samples of some of my favorites:
1) Intuit QuickBooks Software Direct Response Package — I'm proud to say that I introduced QuickBooks software to Quicken users in 1994. Here's the outside envelope of this package. It included a personalized letter, a huge fold-out poster explaining why QuickBooks is the right software for certain types of businesses and why Quicken is still the right product for other businesses, a response form, a BRE, and a lift note.
This was a very strategic mailing, because QuickBooks wanted to sell small businesses without cannibalizing sales to Quicken users who were very loyal to the world's #1-selling financial management software. After several attempts by others to introduce QuickBooks software to Quicken users had failed, I wrote the package that became the Control. Intuit doesn't release results, but the Creative Director for Intuit told us this package was the control for at least 18 months and solidified QuickBooks' position in the market as the right software for small businesses, while Quicken was the software of choice for individuals.
2)

Norton Ghost 6.0 Direct Mail Package — For Norton, this direct response package with an OE, personalized letter, three-panel brochure, response device and BRE was mailed to IT Managers, offering a 30-day free trial on a product that would help them "Fix PC user problems now before they became IT problems later." Download Norton Ghost 6.0 PDF.
3) Oracle OLAP Self-Mailer — To me, OLAP always sounded like a Swedish person. But it's actually an acronym for "On-Line Analytical Processing." This was a very technical self-mailer about Oracle's OLAP Solution. To draw in the audience, we showed a few traffic arrows and the headline, originally by baseball great Yogi Berra, "When you get to the fork in the road, take it." The copy continued, "After all, both roads lead to Oracle, The Open OLAP Solution."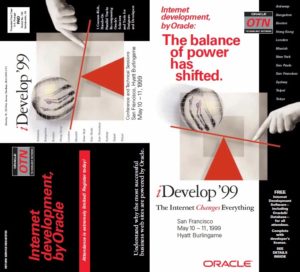 4) Oracle iDevelop '99 Self-Mailer — To announce a worldwide series of conferences in 13 cities, I wrote this six-panel self-mailer that only required a black plate change on one side to update the host city. Larry Ellison personally approved this direct mail project. It also included information about Oracle 8i, the world's first Internet database, info about 3 technical tracks, 6 hands-on sessions, a $200 Early Bird software savings with a $200 limited-time offer on software, and a registration form. Download Oracle iDevelop '99 Self Mailer PDF.
5) Phone.com's Unwired Universe Conference Self-Mailer — This 12-page mailer was sent to thousands and thousands of telecom industry leaders globally — and sold out in a few weeks. It included a list of speakers from about 40 major telcos worldwide, an overview of this annual event, summaries of the dozens of sessions and seminars, plus a pre-registration form. Download Phone.com's Conference Self-Mailer PDF.
6) Phoenix Technologies Annual Conference Program — This large-format 9 x 12 folder was accompanied by a personal letter from the president of the company, inviting their special guests to a weekend of golf and socializing in Carmel's Pebble Beach Resort. Robert Lewis Stevenson once called this area "the most felicitous meeting of land and sea in the world." Download Phoenix Technologies Conference Program.