My long-time San Rafael friend and Yosemite Half Dome hiking buddy, Stephen Gandy, Certified Financial Planner, wanted someone to update his old website. In addition, the site needed to launch prior to the hosting of a table for a gala event in late October 2012 through his client who sat on the board of the International Women's Forum.
"After" Website Home Page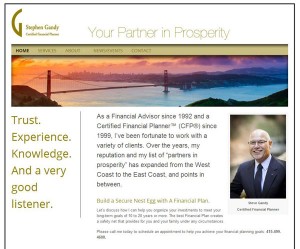 Lauren Deane Evans of Good Looking Ideas, Bradley Charbonneau of Likoma, Mischa Purcell of Mischa Photography and I created this very minimalist but effective website to showcase Steve's financial planning expertise.
Because it's been designed in WordPress, Steve can also edit the site content himself whenever he needs to. Note how Mischa's professional photos make a huge impact vs. amateur photos that just don't do the job.
To invite the right caliber of high-powered female executives to the event, I crafted a campaign of letters and emails for Steve to use as invitations.
However, it turned out that personal referrals to people I knew who were in his target audience led to him filling the table where other methods had not been successful.
As a testimonial, Steve wrote: " I want you to know that the IWF Gala was a total home run! Both the table and the event were well played. Thanks for your help, both with the IWF table placement, and also the new website."
"Before" Website Home Page