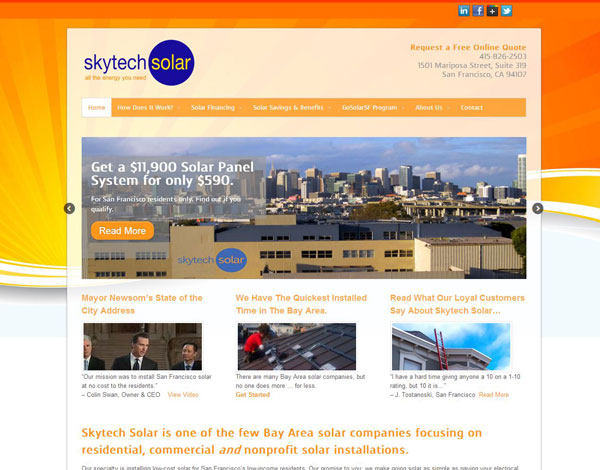 A former BNI Embarcadero colleague, Mat Ventre, is now Director of Marketing and Operations for Skytech Solar, a leading San Francisco solar panel installation company. I was thrilled when he tapped me to write his site. Why? Because as a Certified Bay Area Green Business, this was the perfect referral for me.
Among all of the solar companies operating in the San Francisco Bay Area, Skytech Solar is one of the few focusing on residential, commercial and nonprofit solar installations. But their specialty has become installing low-cost solar for San Francisco's low-income residents.
My most frequent WordPress collaborator, Bradley Charbonneau of Likoma, found a beauty of a background image for the site with the right colors and a lively set of sun rays. He even tricked out the background of the body area so it would be semi-transparent. The result? A sleek looking site with a good dose of style. Take that sun ray graphic away and it's a different site.
Take a look at their old site to see how much of an upgrade this was for them.