Have you heard of Junior Seau? He was a 20-year NFL player who committed suicide last year. Like many former athletes in physical sports like football, hockey and boxing, he was suffering from Post-Concussion Syndrome from numerous cranium-rattling hits during his long-time career.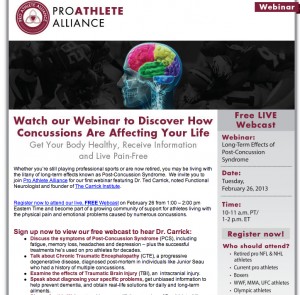 Junior didn't suffer in vain. His death was the catalyst for his USC colleague and fellow NFL alumnus, Ernie Spears, to promote a nonprofit group called the Pro Athlete Alliance (PAA). This Internet Publishing and Broadcasting Company now provides a free digital magazine and social networking website, which has been created exclusively for current and former professional athletes of all sports. PAA's goal is to help athletes manage their lives while playing their sport, transitioning from their sport, and successfully navigating the rest of their lives.
I recently was hired to write a series of emails for PAA's first webinar: "Long Term Effects of Post-Concussion Syndrome" featuring Dr. Ted Carrick. One of them is shown above.
The results from Mr. Spears: "The campaign was a great success — thank you! Briefly: 6,500 NFL email addresses secured; 160+ webinar subscribers; average open rate 35%!; ROI 3%. Fantastic responses from attendees."