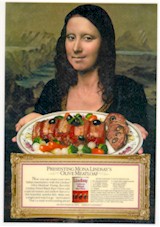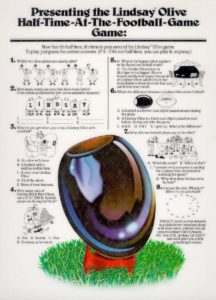 One of my favorite clients when I was a young copywriter at Ketchum Advertising, San Francisco (now TWBA Chiat-Day) was also one of my first clients ever: Lindsay Olives.
I've always believed that advertising copywriting should be entertaining with humorous headlines. So here are two I wrote that I still like, many years later. The first was a recipe ad shown on the left that ran in Good Housekeeping and other women's magazine. For it, we dressed a model up like the Mona Lisa, so the headline was "Presenting Mona Lindsay's Olive Meatloaf." The bacon-and-olive meatloaf recipe tasted much better than it looked.
The second ad shown on the right ran in football programs in the Bay Area (49ers, Raiders, UC Berkeley & Stanford) because the Lindsay Olive sales team would take their clients to the games. For this one, we created the fun Lindsay Olive "Half-Time-At-The-Football-Game" Game. Download the ad PDF.
For Lindsay, I also wrote and produced some hilarious radio commercials that won lots of major awards including a nomination as a CLIO finalist. The first was called "Yoo Hoo" featuring a Jewish Olive talking about his son. The second was a "nebbishy" olive who was "Born Homely".
Listen to these two :60 MP3 Lindsay Olive radio commercials now: