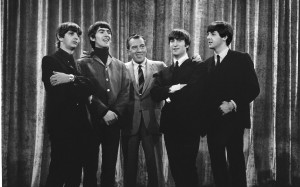 It was 50 years ago today that The Beatles first starred on CBS-TV's "The Ed Sullivan Show" to a live national audience of 74 million people. I was one of them, sitting on the floor of my parents' bedroom with my twin brother and older sister.
So what's my connection? The comedy act that appeared directly before The Beatles' second set was known as McCall and Brill. Charlie Brill and his wife, Mitzi McCall, had that distinct opportunity to try to entertain a crowd of 728 rapid teens who'd just screamed their lungs out. In fact, Brill & McCall didn't really understand what Ed Sullivan said during rehearsals when he kept telling them, "You'll go on before the youngsters!"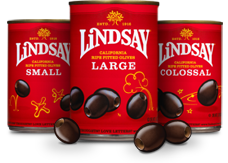 Flash forward 12 years. I'm working in print production at Ketchum Advertising in San Francisco in 1976. I wasn't even a full-time copywriter yet, but my Creative Director (Bob Hulme) asked me to write my first :60 radio commercial for Lindsay Olives using a concept of "talking olives" developed by Jon Crawford, one of the agency's other writers. So I developed a script about a Jewish Olive, kvetching about "His son, the olive" and what a disappointment he was.
My boss loved the script, the client approved it, and they went to Los Angeles to produce it. Bob also hired Ed Bogas, a well-known San Francisco musician, to create a "Fiddler On The Roof"-type violin background track to add to the "Jewishness" of the commercial. And in a stroke of genius, my boss casts Charlie Brill as the Jewish Olive. Listen to "Yoo Hoo" Lindsay Olives Radio Commercial.
Unfortunately, I never got to meet Charlie or talk to him about his appearance on "The Ed Sullivan Show", but I'd like that opportunity someday… so if anyone knows him or Mitzi, have them give me a call.