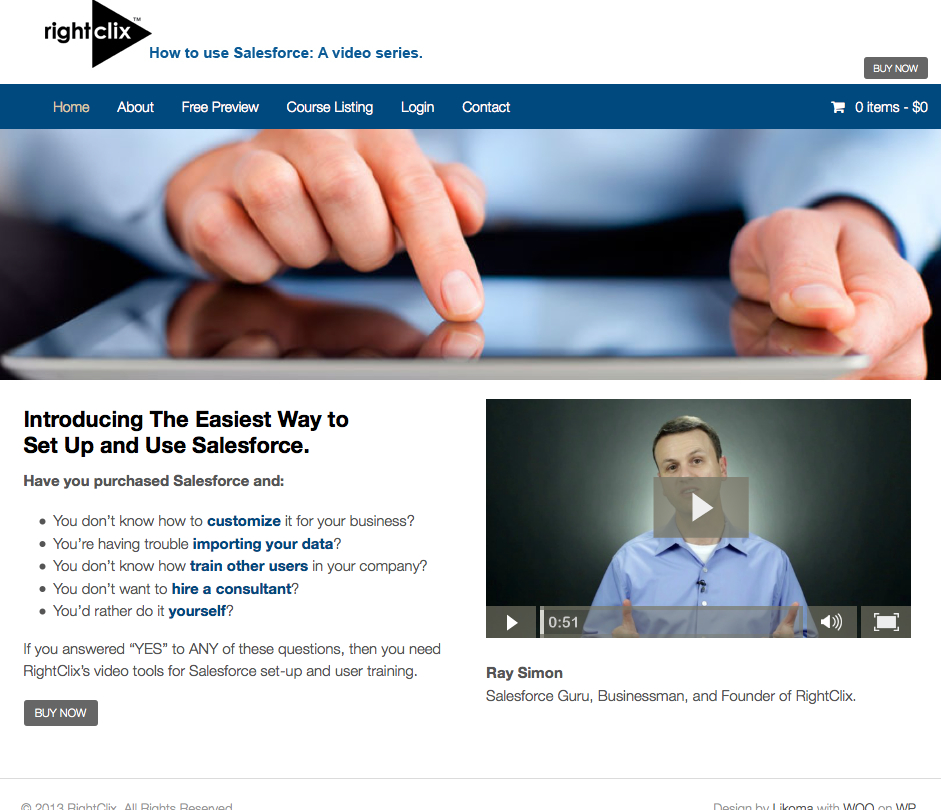 I'm very pleased to have been part of an All-Star Marketing Makeover Team from BNI Embarcadero that helped Ray Simon fulfill his dream of launching a new company today.
It's called RightClix.com. What's RightClix? It's a series of easy-to-follow videos that represent an easy way to set up and use Salesforce for your business. Ray has said that many companies purchase Salesforce, but then they don't know how to use it… how to customize it… how to import data… or how to close most deals faster by becoming a rock star Salesforce user.
So in just a few months, our Marketing Makeover Team of Lauren Deane Evans of Good Looking Ideas (logo development, graphic design, art direction and video supervision), Bradley Charbonneau of Likoma (WordPress web development), Gil Zeimer of Zeimer's Advertising Shoppe (website copywriting, script writing and editing, and postcard writing), Kathy Olberts of Quantum Careers (branding and focus group facilitation), Seth Tajbakhsh of Copymat Printing (postcard printing), and other contributors accomplished something that would normally take six months or more.
RightClix is called "the easiest way to set up and use Salesforce" because most people don't want to learn it themselves, don't have the time to learn it, or don't have the budget to hire a Salesforce consultant. The site contains the first three videos of an ongoing series, for a total of 30 individual video lessons giving click-by-click to use Salesforce right from the start.
For more information, contact Ray Simon at 415-956-1467 or visit RightClix.com for a special introductory offer.
Here's the testimonial from Ray which I'm proud to share with you:
"We are a professional services firm that committed ourselves to launching a new company and product, which is video-based training.
"Gil Zeimer was a key member of our team to develop a product name and brand.  We were amazed at the depth of experience that he brought to the table!  We started collaborating early on, in the product-concepting phase.  Gil has great experience with video, software, and product marketing. He took this brand and infused it into every part of the product, web copy, script copy, and print collateral.
"In the end, we created a great product that is professionally done and aimed directly at our target market using messaging created by Gil to resonate with small businesses.  We're having a great launch now with very positive response, and we look forward to working with Gil again to develop the next round of products!"
– Ray Simon, Founder, RightClix