As a healthcare copywriter, I've written all types of sites for all types of products and services. This is one of my favorites — S3 Skincare.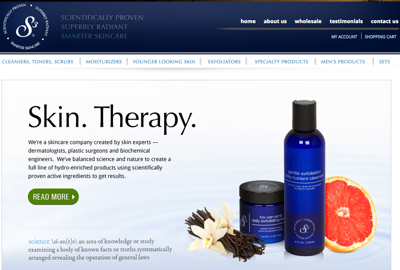 For this client in Maryland, I wrote the new tagline: "Scientifically Proven. Superbly Radiant. Smarter Skincare." to play off of the company's name. For the home page, there are four slider visuals with headlines such as: "Skin. Therapy."; "Smarter Skincare"; "Superbly Radiant Skin"; and "The Truth About Skincare". I've used these products and they're terrific for making your skin feel its best. Plus, they're 98% Natural and made with 100% Recyclable Packaging.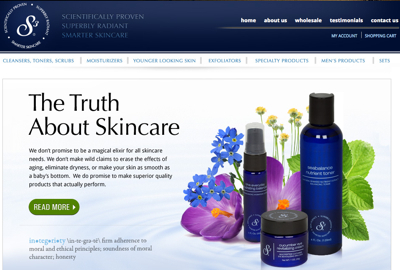 This site is composed of over 40 pages of healthcare copywriting expertise with descriptions for skincare products including Cleansers, Toners & Scrubs; Moisturizers; Younger Looking Skin; Exfoliators; Specialty Products; Men's Products; and Sets of S3 Skincare Products.
One of my favorite pages of healthcare copywriting is for the Calm & Soothe Toner (Post Shave Solution). For "The Problem", it reads: "Shaving your face can be described as scraping a knife over a sea urchin with a thin layer of soap. It's not pretty, even if it's been glamorized in TV commercials by handsome athletes surrounded by adoring fans. Shaving is an irritant, and some men have more sensitive skin than others."
For my toils for this skin care site, the client wrote: "Gil, as you know, I interviewed six healthcare copywriters across the country to revise the content of my skincare products website. You had the best credentials and you didn't disappoint. The text you wrote was simply fantastic. I sincerely appreciate your talent — and it is talent. I think I made one or two word changes and messed with a few of the titles, but really very few edits. I really just wanted to tell you that I think the text is great."
– Gary Susel, Founder, S3 Skincare Products, www.s3skincare.com