1. Welcome Message
2. What's New?
3. Recycled Creativity
4. A Recent Success Story
5. Humor Is A Funny Thing
6. Why I Love Referrals
7. About Zeimer's Advertising Shoppe
Welcome Message
Hi there,
Is the recession over? With a roller coaster stock market and other vague indicators, who knows? But when I'm awarded six new projects in one day recently, I can't help but be overly optimistic that the worst is behind us. But it is really? Only time will tell.
Cheers!
Gil Zeimer
What's New?
What I've been doing:
Revising the website for a Bay Area business broker
Blasting out more Webinar emails for a leading tech client
Writing sales literature for a local spice company
Completing three newsletters for SF Bay Area Life Care communities
Starting a Website and direct marketing materials for a global choir
Crafting radio concepts for a Middle East bank through an ad agency in Toronto
Read past issues of Zeimer's NewZletter: December 2009; October 2009; August 2009; July 2009; March 2009.
Recycled Creativity
As a Certified Green Bay Area Business, I took a pledge to reduce my carbon footprint by using recycled products and services wherever possible. To that end, I'm recycling some of my past successes as a freelance copywriter in each of these newsletters.
Here's an example: Roadshow Magazine Ad

Seeing a fleet of Roadshow 18-wheelers at the Billy Joel and Elton John perform in February at the Oakland Arena jiggled my memory of writing this ad in 1990. This company, which calls itself "The Premier Live Event and Tradeshow Transportation Specialist" shleps all the sound equipment, stages, video screens, musical instruments, and more for groups as diverse as Rock & Roll Hall of Famers like Billy Joel and The Rolling Stones to small groups you may never have heard of.


A Recent Success Story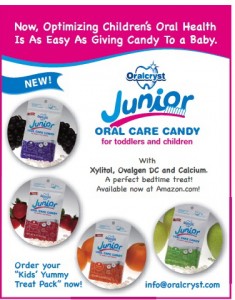 A new client of mine in Tokyo wanted to launch a new oral care products company in the US with a proprietary technology that was already accepted in Japan: functional candy. This new category has three effective ingredients that help kids naturally chew away cavity-causing bacteria.
Oralcryst Junior is available in four kid-friendly fruit flavors. Plus, it's nut-free, soy-free, wheat-free, gluten-free, trans-fat free, and sugar-free. You can read more at www.oralcryst.com. There, you can connect to an online store to purchase it www.Amazon.com. Let me know what you think of this product; your comments are most welcome.
Humor Is A Funny Thing
The Washington Post has an annual Mensa Invitational. Readers are invited to take any word from the dictionary, alter it by adding, subtracting, or changing one letter, then supplying a new definition.
Here are the Top Ten:
1. Cashtration (n.): The act of buying a house, which renders the subject financially impotent for an indefinite period of time.
2. Ignoranus: A person who's both stupid and an a-hole.
3. Intaxication: Euphoria at getting a tax refund, which lasts until you realize it was your money to start with.
4. Reintarnation: Coming back to life as a hillbilly.
5. Bozone ( n.): The substance surrounding stupid people that stops bright ideas from penetrating. The bozone layer, unfortunately, shows little sign of breaking down in the near future.
6. Foreploy: Any misrepresentation about yourself for the purpose of getting laid.
7. Giraffiti: Vandalism spray-painted very, very high
8. Sarchasm: The gulf between the author of sarcastic wit and the person who doesn't get it.
9. Inoculatte: To take coffee intravenously when you are running late.
10. Osteopornosis: A degenerate disease. (This one got extra credit.)
Read more: Plus the Washington Post's contest winners for readers supplying alternate meanings to common words.
Why I Love Referrals
I was recently referred to a client in southern Florida who is a marketing agency for the travel industry. Because I'm both a travel copywriter AND a travel writer, this is a great referral for me, but I wouldn't have been able to begin a dialogue with this client without someone recommending me to them and asking the client to check out my capabilities first.
About Zeimer's Advertising Shoppe
Zeimer's Advertising Shoppe is an award-winning writing consultancy and ad agency. As a freelance direct response copywriter, email and newsletter copywriter, website copywriter, and healthcare copywriter, I create content for ads, brochures, direct response/email campaigns, radio and TV scripts, White Papers, newsletters, and more.
For information or to receive an estimate on your next project, contact gil (at) zeimer (dot) com or call me today at 415.491.1058.
© 2010. Zeimer's Advertising Shoppe. All Rights Reserved.
NOTICE: If you no longer wish to receive this newsletter, send me an email and type "REMOVE" in the subject line.