1. Welcome Message
2. What's New?
3. Recycled Creativity
4. A Recent Success Story
5. Humor Is A Funny Thing
6. Why I Love Referrals
7. About Zeimer's Advertising Shoppe
Welcome Message
Hi there,
My freelance copywriting consultancy has weathered several recession cycles over the past 15 years, so it continues to forge ahead despite a rocky economy. I am still cautiously optimistic that the worst is behind us. In fact, every new project I'm awarded fuels my vision of a financially more robust economy in the coming months. But hey, the glass is always three-quarters full here!
Cheers!
Gil Zeimer
What's New?
What I've been doing since my April NewZletter:
* Writing sections of a new Website for my networking group
* Completing a brochure and website for a leading foreign exchange company
* Creating a script for a video tour of a senior living facility in Kentucky
* Finishing a six-panel brochure and landing page for an architectural firm
* Crafting direct mail projects for a California-based healthcare provider
* Introducing a new service to personalize your debit card for a major bank
* Read past issues of Zeimer's NewZletter:
— April 2010
— December 2009
— October 2009
— August 2009
— July 2009
— March 2009
Recycled Creativity
As a Certified Green Bay Area Business, I took a pledge to reduce my carbon footprint by using recycled products and services wherever possible. To that end, I'm recycling some of my past successes as a freelance copywriter in each of these newsletters.
Here's an example: FedEx Freight Trade Magazine Ad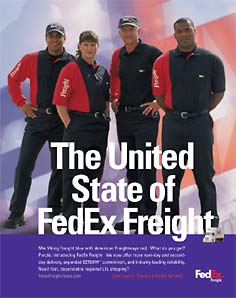 Before it was FedEx Freight, it was Viking Freight in the West and American Freightways in the East. So when the two were taken over by FedEx, I wrote this ad to introduce the new company to the shipping industry.
Headline: "The United State of Fedex Freight." Ad copy: Mix Viking Freight blue with American Freightways red. What do you get? Purple. Introducing FedEx Freight. We now offer bigger next-day and second-day delivery, expanded EZTDBW® commitment, and industry-leading reliability. Need fast, dependable reliable LTL shipping? Don't worry. There's a FedEx for that.
A Recent Success Story
A colleague of mine is an architect. Joshua Larson and his partner Carrie Shores of Larson Shores Architecture have created a new solution called ASAP (Architectural Solutions For The Aging Population) to improve people's lives through design. With ASAP, families and seniors have a new solution/service to help them avoid the cost of assisted living, increase safety and maintain their lifestyle, plus have more livable and beautiful spaces.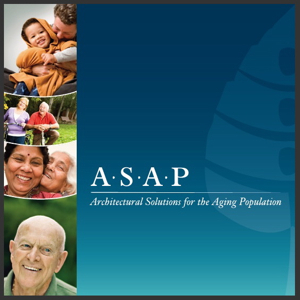 Recently, Josh and Carrie asked me to write a six-page brochure and a landing page for ASAP. Within a few weeks from start to finish, we accomplished this goal, thanks in large part to the strong design and project management by Arlene Santos, Principal and Creative Director of AG Design Group.
Josh said, "Gil brought great clarity and creativity to our business marketing material well beyond our expectations. He performed efficiently at the highest possible level under a tight schedule. I have a new-found respect for command of the English language and all its intricacies that make writing a powerful vehicle for small business."
Humor Is A Funny Thing
Every year, English teachers from across the country can submit their collections of actual similes and metaphors found in high school essays. These excerpts are published each year to the amusement of teachers across the country:
1. Her face was a perfect oval, like a circle that had its two sides gently compressed by a Thigh Master.
2. His thoughts tumbled in his head, making and breaking alliances like underpants in a dryer without Cling Free.
3. He spoke with the wisdom that can only come from experience, like a guy who went blind because he looked at a solar eclipse without one of those boxes with a pinhole in it and now goes around the country speaking at high schools about the dangers of looking at a solar eclipse without one of those boxes with a pinhole in it.
4. She grew on him like she was a colony of E.Coli, and he was room-temperature Canadian beef.
5. She had a deep, throaty, genuine laugh, like that sound a dog makes just before it throws up.
6. Her vocabulary was as bad as, like, whatever.
7. He was as tall as a six-foot, three-inch tree.
8. The revelation that his marriage of 30 years had disintegrated because of his wife's infidelity came as a rude shock, like a surcharge at a formerly surcharge-free ATM machine.
9. The little boat gently drifted across the pond exactly the way a bowling ball wouldn't.
10. McBride fell 12 stories, hitting the pavement like a Hefty bag filled with vegetable soup.
11. From the attic came an unearthly howl. The whole scene had an eerie, surreal quality, like when you're on vacation in another city and Jeopardy comes on at 7:00 p.m. instead of 7:30 p.m.
12. Her hair glistened in the rain like a nose hair after a sneeze.
13. The hailstones leaped from the pavement, just like maggots when you fry them in hot grease.
14. Long separated by cruel fate, the star-crossed lovers raced across the grassy field toward each other like two freight trains, one having left Cleveland at 6:36 p.m. traveling at 55 mph, the other from Topeka at 4:19 p.m. at a speed of a speed of 35 mph.
15. They lived in a typical suburban neighborhood with picket fences that resembled Nancy Kerrigan's teeth.
16. John and Mary had never met. They were like two hummingbirds who had also never met.
17. He fell for her like his heart was a mob informant, and she was the East River.
18. Even in his last years, Granddad had a mind like a steel trap, only one that had been left out so long, it had rusted shut.
19. Shots rang out, as shots are known to do.
20. The plan was simple, like my brother-in-law Phil. But unlike Phil, this plan just might work.
21. The young fighter had a hungry look, the kind you get from not eating for a while.
22. He was as lame as a duck. Not the metaphorical lame duck, either, but a real duck that was actually lame, maybe from stepping on a land mine or something.
23. The ballerina rose gracefully en Pointe and extended one slender leg behind her, like a dog at a fire hydrant.
24. It was an American tradition, like fathers chasing kids around with power tools.
25. He was deeply in love. When she spoke, he thought he heard bells, as if she were a garbage truck backing up.
Why I Love Referrals
BNI Embarcadero is the largest word-of-mouth referral chapter on the West Coast. About 60 professionals meet weekly in downtown San Francisco to hear each other's infomercials, watch presentations, share referrals, and report closed business as a result of those referrals (which has topped $1.2 million each of the last three years).
I'm proud to currently serve as President of this vibrant group and lead us into the second half of the year. If you want to increase your referrals by 20%, 30% or even 50%, visit us on an upcoming Wednesday from 7:15 — 9am at Schroeder's Café, 240 Front Street (between Sacramento and California), San Francisco, CA 94111.
By the way, credit for the new BNI Embarcadero Website goes to Lauren Deane Evans of Good Looking Ideas for the site design and layout, plus to Bradley Charbonneau of Likoma for the WordPress implementation.
About Zeimer's Advertising Shoppe
Zeimer's Advertising Shoppe is an award-winning writing consultancy and ad agency. As a freelance direct response copywriter, email and newsletter copywriter, website copywriter, and healthcare copywriter, I create content for ads, brochures, direct response/email campaigns, radio and TV scripts, White Papers, newsletters, and more. For information or to receive an estimate on your next project, contact me via email or call 415.491.1058.
© 2010. Zeimer's Advertising Shoppe. All Rights Reserved.