Travel Copywriter
I'm proud to have over 25 years of freelance travel copywriting expertise across a wide range of clients and periodicals. These include resorts in North America, top-rated airlines that cross the globe, one of the world's most popular cruise lines, a leading watersports activities company, restaurants in Northern California, and adventure/scuba diving magazines from the United States, Singapore and New Zealand.
Wearing a variety of hats — from straw hats for golf to knit caps for skiing to neoprene caps for scuba diving –– I've traveled through 40 US states and throughout the world to write: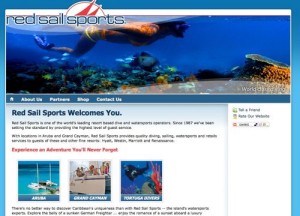 • Quarterly enewsletters and Websites for Red Sail Sports from 2002 to 2009. This included their portal site, then separate sites for each of this largest resort based diving and watersports operator in Grand Cayman and Aruba. For the latter, I had a spectacular visit filled with scuba diving, snorkeling, parasailing, lunch and sunset catamaran cruises, and more. Read Watersports Paradise Found.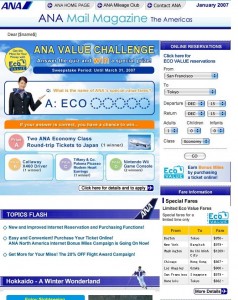 • A year of monthly enewsletters and promotional emails for All Nippon Airways.
• Print ads for Frontier Airlines that helped an ad agency in Dallas win the account –– even after I left Texas and moved back to the West Coast.
• The initial website, three Annual Reports and miscellaneous brochures for Hawaii Air Ambulance (now Air Med Care Network)
• Shore brochures for Alaska, Mexico and the Caribbean for Princess Cruises (formerly Sitmar Cruises).
• Weekly ads and radio commercials for a three-year span for Caesars Tahoe Resort Casino, Nevada, to promote its wide variety of stellar entertainers.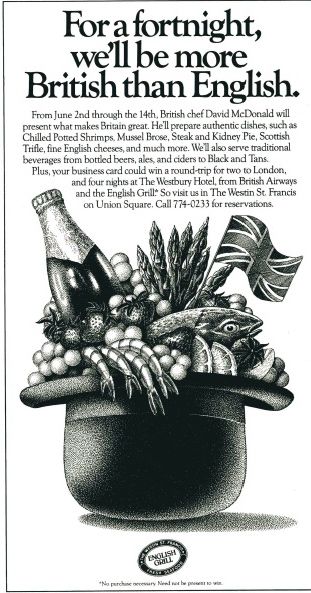 • Ads and outdoor boards for the Westin St. Francis Hotel in San Francisco. Download English Grill PDF.
• Fact Sheets and Guest Service Directories for Hilton.com.
• Ads for the Monterey Marriott in Northern California.
• Over 25 magazine articles as a freelance travel copywriter for Scuba Times, Alert Diver, Adventure Journal, Sport Diver Interactive, Dive Pacific Magazines, Asian Diver, Dive Travel, Undercurrent's Traveling Diver's Chapbook, Marin Independent Journal, S.F. Chronicle and L.A. Times about diving in Maui, the Turks & Caicos Islands, Australia, Kosrae (Micronesia), Baja California (Sea of Cortez), Aruba, Florida, The Bahamas, Monterey (CA), Belize, and other tropical, warm water destinations.
•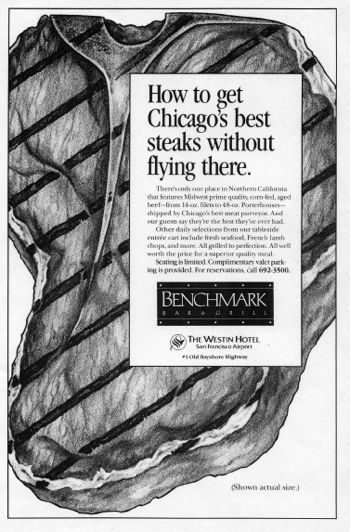 Newspaper ads and radio spots for the Westin San Francisco Airport Hotel. Download Benchmark Grill PDF,
• I'm also the managing editor for www.vagablond.com, a luxury ezine for travel, shopping, food and wine, where I've posted over 1,400 articles since 2005. Some of my favorite articles include:
• Kool, Klassy Kimpton: Hotel Monaco Denver
• Show Me The Monks' Key: Kruisheren Hotel, Maastricht, The Netherlands
• South Beach Cool Meets St. Barts Calm: Ku´Luxury Hybrid Hotel, Anguilla
• This Is The Winter Of Our Discounts Sent: Europe on Sale, Expedia.com
• The Paws That Refreshes: Pet Friendly Hotels
• Where To Get Drunk In Disneyland: Club 33
• Dinner And A Thousand Stars: Canyonlands by Night & Day, Moab, UT
• Cathay Pacific Airways; First Class In A Class By Itself
• The Bride Wore A White Wetsuit: Caribbean Weddings, Cozumel, Mexico