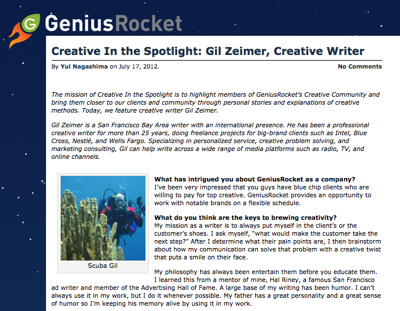 GeniusRocket is a creative video agency in the Washington, DC area that hires freelance copywriters like me to produce concepts for their TV and radio client's campaigns.
I'm proud to announce my interview with their "Creative In The Spotlight" blog that went live today. Have a read…
The mission of Creative In the Spotlight is to highlight members of GeniusRocket's Creative Community and bring them closer to our clients and community through personal stories and explanations of creative methods. Today, we feature creative writer Gil Zeimer.
Gil Zeimer is a San Francisco Bay Area writer with an international presence. He has been a professional creative writer for more than 25 years, doing freelance projects for big-brand clients such as Intel, Blue Cross, Nestlé, and Wells Fargo. Specializing in personalized service, creative problem solving, and marketing consulting, Gil can help write across a wide range of media platforms such as radio, TV, and online channels.
What has intrigued you about GeniusRocket as a company?
I've been very impressed that you guys have blue chip clients who are willing to pay for top creative. GeniusRocket provides an opportunity to work with notable brands on a flexible schedule.
What do you think are the keys to brewing creativity?
My mission as a writer is to always put myself in the client's or the customer's shoes. I ask myself, "what would make the customer take the next step?" After I determine what their pain points are, I then brainstorm about how my communication can solve that problem with a creative twist that puts a smile on their face.
My philosophy has always been entertain them before you educate them. I learned this from a mentor of mine, Hal Riney, a famous San Francisco ad writer and member of the Advertising Hall of Fame. A large base of my writing has been humor. I can't always use it in my work, but I do it whenever possible. My father has a great personality and a great sense of humor so I'm keeping his memory alive by using it in my work.