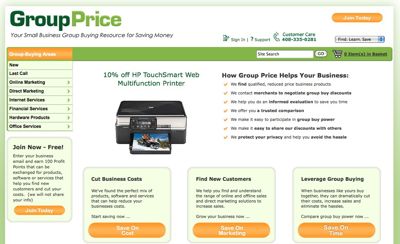 A few months ago, I received a referral to the founder of this site through a friend who's a SEO expert. As a freelance website copywriter, this was right in my wheelhouse.
GroupPrice.com is for businesses what Groupon is for consumers. How? Because with Group Price, any small business can go online and grow online to cut business costs, find new customers, and above all, to leverage the power of group buying to get great discounts on products, services and software they need to run their business. That's why the tagline is "Buying Power For Business".
I've now written this site's content across approximately 75 pages, including SEO for key pages and about 45 pages of individual offers. For example, for my services listed on this page under Website Copywriting from Zeimer's Advertising Shoppe, you can buy a 10-hour block of my time at 13% savings right now — because the founder has already pre-negotiated a discount on my services.
But if you contact your friends, co-workers and colleagues through social media already plugged into the site, you can share this offer with them. Then, 7 to 10 buyers can purchase this service with at a bigger discount — up to 27% savings!
And this is just one of a growing number of offers from companies like HP, Apple, LG, LaCie, Carbonite, Mozy, and many more.
I invite you to join GroupPrice.com free now, earn 100 Profit Points to exchange for products, software and services, then take advantage of these great offers.