As the top-rated "healthcare copywriter" on the major search engines, I'm very pleased to be a contributing writer to a hospital in the South Bay. Below are just a few of the hospital articles that have appeared in the Tri-City Voice: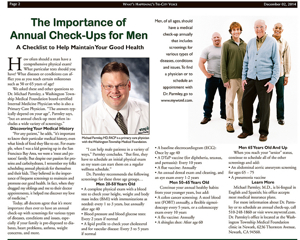 1) The Importance of Annual Check-Ups for Men
How often should a man have a comprehensive physical exam? What particular tests should you have? What diseases or conditions can afflict you as you reach certain milestones such as 50 or 65 years of age?
We asked these and other questions to Dr. Michael Parmley, a Washington Township Medical Foundation board-certified Internal Medicine Physician who is also a Primary Care Physician.
"The answers typically depend on your age", Parmley says, "but an annual check-up most often includes a wide variety of screenings." Read more.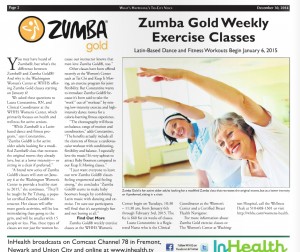 2) Zumba Gold Weekly Exercise Classes
You may have heard of Zumba®, but what's the difference between Zumba® and Zumba Gold®? And why is The Women's Center at WHHS offering Zumba Gold classes starting on January 6th?
We asked these questions to Laura Constantine, RN, and Clinical Coordinator at the WHHS Women's Center, which primarily focuses on health and wellness for active seniors.
"While Zumba® is a Latin-based dance and fitness program," says Constantine, "Zumba Gold® is for active older adults looking for a modified Zumba® class that recreates the original moves they already love, but at a lower intensity––sitting in a chair if you wish." Read more.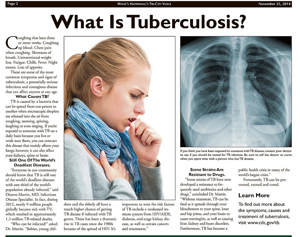 3) What Is Tuberculosis?
Coughing that lasts three or more weeks. Coughing up blood. Chest pain when coughing. Shortness of breath. Unintentional weight loss. Fatigue. Chills. Fever. Night sweats. Loss of appetite.
These are some of the most common symptoms and signs of tuberculosis, a potentially serious infectious and contagious disease that can affect anyone at any age.
What Causes TB? TB is caused by a bacteria that can be spread from one person to another when microscopic droplets are released into the air from coughing, sneezing, spitting, laughing or even singing. Read more.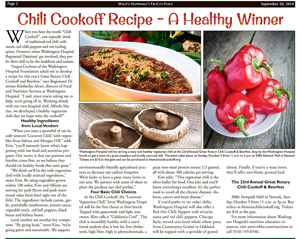 4) Chili Cook-Off: A Healthy Winner

When you hear the words "Chili Cookoff", you typically think of traditional red chili with meats, red chili peppers and toe-curling spices. However, when Washington Hospital nutritionists get involved, they prefer their chili to be "the healthiest".
"Angus Cochran of the Washington Hospital Foundation asked me to develop a recipe for this year's Great Rotary Chili Cookoff and Beerfest," says Kimberlee Alvari, RD, Washington Hospital's Clinical Manager of Food and Nutritional Services.
"I said, since you're asking me to help, we're going all in. Working closely our own hospital chef, Alfredo Macias, we developed a healthy vegetarian chili that we hope will actually win the cookoff!" Read more.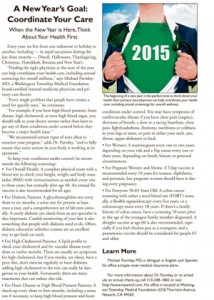 5) A New Year's Goal: Coordinate Your Care
Every year, we live from one milestone or holiday to another, including –– in rapid succession during the last three months –– Diwali, Halloween, Thanksgiving, Christmas/ Hanukkah/Kwanza and New Year's.
"Finding the right physician at the start of the year can help coordinate your healthcare, including annual screenings for overall wellness," says Michael Parmley, MD, a Washington Township Medical Foundation board-certified internal medicine physician and primary care doctor.
"Every single problem that people have creates a need for specific tests," he continues.
"For example, if you have high blood pressure, heart disease, high cholesterol, or even high blood sugar, you should talk to your doctor sooner rather than later to get any of these conditions under control before they become a major health issue. Read more.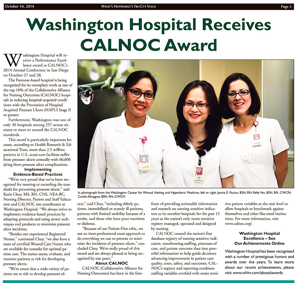 6) Washington Hospital Receives CALNOC Award
The Fremont-based hospital is being recognized for its exemplary work as one of the top 10% of the Collaborative Alliance for Nursing Outcomes (CALNOC) hospitals in reducing hospital-acquired conditions with the Prevention of Hospital Acquired Pressure Ulcers (HAPU) Stage II or greater.
Furthermore, Washington was one of only 30 hospitals among 257 across six states to meet or exceed the CALNOC standards.
This award is particularly important because, according to Health Research & Educational Trust, more than 2.5 million patients in U.S. acute-care facilities suffer from pressure ulcers annually with 60,000 dying from pressure ulcer complications. Read more.
To see more healthcare copywriting samples, please visit this page on my website.