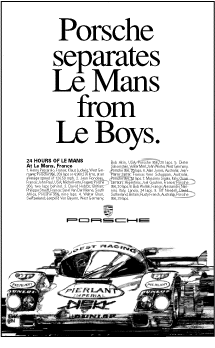 It was the day before The Bloom Agency in Dallas, TX was going to make a new business presentation to Porsche Dealers of North America in 1985.
While sitting on the "throne" at the office while taking a break from my Senior Copywriter job, I saw a small blurb in the Sports section of the Dallas Morning News that Porsche had just won 8 out of 10 places at the 24-Hour LeMans Endurance Race.
I showed the newspaper to the agency's Creative Director. He said, "You've got an hour to write a headline." A few minutes later, I had a moment of clarity and typed: "Porsche separates Le Mans from Le Boys", showed it to him, and sat with an Art Director who sketched out the concept.
The next day, the agency presented this ad as the final concept in their pitch for the multi-million dollar account, told the client they had reserved space for a full-page ad in The New York Times, and would run the ad if we were awarded the business.
We didn't win the account, but I created a terrific ad concept. Yes, ad concept –– this ad never appeared anywhere in print. It has only been posted on my website, yet it has gained global recognition as a breakthrough in Porsche advertising.
Flash forward about 25 years later. I got a call from out of the blue from a guy who loves Porsches, has a bunch of them, was having a new garage built in his home to house them, and found this particular ad that I wrote during a Google search of "Porsche ads". He said that he wanted to buy the original art for this ad, we agreed on a price, and a few days later in the San Francisco area, we made the exchange. End of story for that ad.
But it really wasn't. Because in 2014, Autoevolution included this ad as #2 on their list of "Best Porsche Print Ads Ever".  This blog starts with: "Since the dawn of the internal combustion engine, print ads have been the number one marketing medium for car manufacturers around the globe. Out of the few automakers with solid tradition in print advertising, Porsche is considered by marketing experts and motoring editors alike as being the most influential sports car brand to venture into this world."
For my ad concept, they wrote: "Well well well, what do we have here? One of the most obscure Porsche prints ever pinpoints in a very tongue-in-cheek way the difference between gentlemen and boy racers.
"The amusingly clever wordplay is courtesy of freelance copywriter Gil Zeimer. With a career span of more than 30 years, Zeimer is well known in the industry, having worked as a staff advertising copywriter for large agencies such as BBDO, Ketchum, Grey and Cohn & Wells.
"Due to its low profile nature, background info on this ad is unfortunately very limited. However, there is a bit of substance behind that witty tagline.
"Starting with Richard Attwood's 1970 Le Mans win at the wheel of the 917K, Porsche amassed a total of 16 overall wins in the prestigious endurance competition. The second most dominant car brand in Le Mans history is Audi, with 12 wins since the year 2000."
Read more: http://www.autoevolution.com/news/these-are-the-best-porsche-print-ads-ever-photo-gallery-81098.html#ixzz4FoDxtkJ