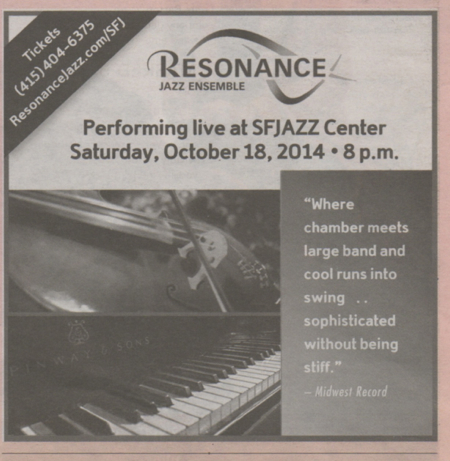 A client of mine, Allison Bliss Consulting, asked me to write scripts for :15, :30 and :60 radio commercials, copy for both animated and static ad banners, and edit her newspaper ad copy for the SF Chronicle's Pink Datebook section.
Before I could recommend a media buyer/planner for the project, she had already found Ellen Young through another resource. But I would have recommended Ellen, too.
I thank Troy Duran of Tantor Media in St. Louis for editing the music tracks. Ironically, he also did the voiceover for one of the jazz stations we're running on. Listen to the :60 Resonance Jazz Ensemble radio spot.
The "Fearless Force" premiere concert for Resonance Jazz Ensemble will be held at the SF Jazz Center, 201 Franklin Street, San Francisco, on Saturday, October 18th at 8 pm.  ResonanceJazz.com/SFJ.
Or "Like" them on Facebook.
For this project, this is the testimonial I received: "What a delight to work with Gil on the creative direction for ad copy and radio spots for my client, Resonance Jazz Ensemble. I wanted something lively that covered a wide gamut of what they do and Gil delivered – fast, on time, with  spot-on messaging! He even handled organizing all the info for all the stations, various ads, and contests to make it easy for me (and our awesome media buyer, Ellen Young) to manage. Plus he mixed the music beds to save us heaps of record/mix time and cost, just at a time I most needed reliable help. He even took time in the final stages to proof all of this the day my eye was swollen shut from an injury. Now that's going way over and above! He's responsive, clever, reliable, worth every penny, and easy to work with, too. What more could you want? Highly recommended!" – Allison Bliss, Director of Marketing Communications firm: Allison Bliss Consulting