Zeimer's NewZletter, Vol. 1, No. 4, October 2009

Welcome Message
What's New?
A Recent Success Story
Featured Blog Article
Recycled Creativity
Humor Is A Funny Thing
Why I Love Referrals
Ad Trivia
About Zeimer's Advertising Shoppe
Welcome Message
Hi there,
How's business? In the words of Larry David, "September and October to date have been pretty, pretty good!" I saw a tipping point in mid-August when many companies I'md been courting realized they should be advertising during the recession. Now, I'm up to my eyeballs in a variety of short-term projects and long-term campaigns.
Cheers and best regards,
Gil Zeimer
What's New?
What I'mve been doing:
Writing newsletters for Life Care communities on the West Coast and a healthcare company on the East Coast;
Creating a seven-part direct marketing campaign for a dental practice in Southern California;
Editing Websites for a Japanese health care products company and a solar heating and roofing company in the Bay Area;
Generating publicity for Kosrae, Micronesia through writing travel articles;
Writing an article for Referral Success Magazine;
Read past issues of Zeimer's NewZletter:
— August 2009
— July 2009
— March 2009
A Recent Success Story
In each newsletter, I share a copywriting success story. Here's a recent one.
The Problem: The Arc of San Francisco is a nonprofit service and advocacy organization for adults with autism, down syndrome, cerebral palsy, intellectual and developmental disabilities and their families living in San Francisco and san Mateo counties. They wanted to host their 8th Annual Arc Angel Breakfast to raise needed funds in a year where charitable giving was lower than it had been in years.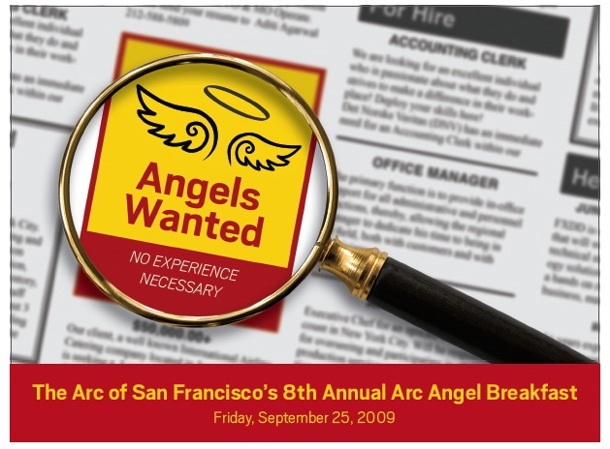 The Solution: My colleague, Sharon Schanzer of Red Letter Day Graphic Design (http://www.rldgroup.com/), created a clean, bold invitation using my headline; "Angels Wanted. No Experience Necessary."
The Result: Our invitation helped raised almost $150,000 in under 90 minutes. The "Angels Wanted" theme hit home, with 16 new Arc Angels pledging their support for The Arc's clients in multi-year commitments that will help keep their services available in these particularly tough times.
Featured Blog Article
Last year, I published "The Branding Name Game" on my site. It began: Shakespeare wrote, "A rose by any other name would smell as sweet."
But what if your dessert was named Spotted Dick of Steamed Suet Pudding? What if you offered your guests Lamb Thymus Gland instead of Braised Sweetbreads? What if your waiter told you of tonight's special fish dish was one of the 45 species of Grilled Darwin's Slimehead instead of Orange Roughy?
And what if that famous actor being chased by an airplane in Alfred Hitchcock's "North By Northwest" was better known as Archibald Leach instead of Cary Grant? Read more.
Recycled Creativity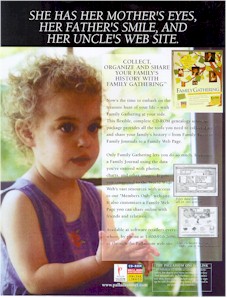 As a Certified Green Bay Area Business, I took a pledge to reduce my carbon footprint by using recycled products and services wherever possible. To that end, I'm recycling some of my past successes as a freelance copywriter in each of these newsletters.
Here's an example: Direct Response Ad For Genealogy Software
This is one of my favorite ads for two reasons. First, because I crafted a fun direct response headline that draws in the reader: "She Has Her Mother's Eyes, Her Father's Smile, And Her Uncle's Website".
Second, I used a photo of my daughter Sara when she was about two years old. Download Family Gathering Ad PDF. Art direction, layout and design by Michael Feldman Creative Services, www.mfeldman.com.
And third, this ad helped this client gain a foothold and market share in the genealogy software industry.
Humor Is A Funny Thing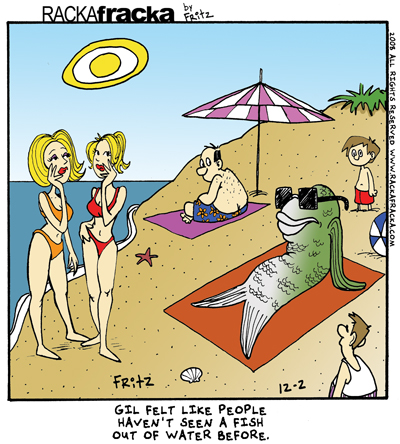 Periodically, I'll be featuring a customized business cartoon from my colleague Fritz from http://www.fritzcartoons.com. We like to work together to offer a humorous cartoon for client newsletters (both online and published), Websites, ads, direct response projects, calendars, and other media. So next time you want to get someone's attention, consider hitting their funny bone.
Why I Love Referrals
A long-time friend of mine emailed me a referral from local investor with a limited advertising budget. I edited his letter and this was his testimonial: "Gil is great to work with. He helped me put together a direct mail copy for my real estate investment work. He spent lots of time understanding what needs to be done and put the copy together after accommodating several edits. Furthermore, he is very well connected in the advertising world. Gil put me in touch with a direct mail fulfillment agency. Thanks to his advice and suggestions, my direct mail response rates have gone from 0.01% to a whopping 3%. If you decide to work with Gil, then be prepared to get outstanding service for a affordable price." — G. JoshiGirish, Santa Clara, CA
Advertising Trivia
Every issue, I'mll ask a few questions about Advertising Trivia. The first correct responses from a new entrant will win a Starbucks Gift Card.
The winner of the August Trivia Contest was Ms. Lanny Udell of San Rafael. She correctly answered "Oh Thank Heaven For 7-11" (Texas convenience chain slogan), The Pepsi Challenge (Soda taste test winner), Mary Wells Lawrence (Female ad personality) and Phil Dusenberry (BBDO CD and "The Natural" author).
The October issue's trivia questions are:
1)Â Â Â  What city was put on the advertising map by The Pillsbury Company?
2)Â Â Â  What Oscar-winning actor made a TV commercial for a imported car shortly after his film debut?
3)Â Â Â  What crazed "Mad Man" once threatened to jump from the window of his office building if the client did not approve his new campaign?
4)Â Â Â  What stars of "Bonanza" later endorsed many products as commercial spokesmen?
5)Â Â Â  What famous comedy team starred in Blue Nun Wine TV ads?
INSTRUCTIONS TO RESPOND:
1) Go to: https://zeimer.com/contact
2) In "Other," type OCTOBER TRIVIA CONTEST
3) In the Message Box, type your answers in the box.
4) Click "Send Email."
About Zeimer's Advertising Shoppe
Zeimer's Advertising Shoppe is an award-winning copywriting consultancy and ad agency. I write ads, brochures, direct response/email campaigns, radio and TV scripts, Websites, White Papers, newsletters, and more.
For information or to receive an estimate on your next project, contact gil@zeimer.com or call me today at 415.491.1058.
© 2009. Zeimer's Advertising Shoppe. All Rights Reserved.