Through a BNI referral as a freelance copywriter, I wrote the website for Larson Shores' newest architecture venture to introduce The Inspired In-Law Cottageâ"¢ to two different worlds of people: families concerned with Aging in Place and those looking for sustainable living spaces. The new site is www.InspiredInLaw.com.
The central theme: the Inspired In-Law Cottage offers real families real solutions to support senior independence and multi-generational living. It's beautifully designed, sustainably built, and delivered quickly.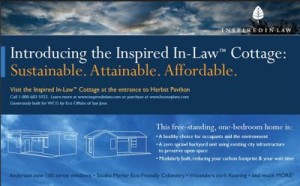 This site was unveiled at two simultaneous trade shows the first week of October 2010 where Larson Shores had a booth: AARP 50+ in Orlando, Florida, and West Coast Green in San Francisco, California. At the latter event, there was an actual 500-square foot Inspired In-Law Cottage so people could actually walk through the unit.
The Website includes thumbnails of four blueprints, How To Buy blueprints or a Cottage, information about Aging in Place, Sustainability, Partners/ Sponsors, about 20 FAQs, News, and four pages of downloadable PDFs.
For more information, contact Josh Larson at 510-444-9788 or email josh@larsonshores.com.