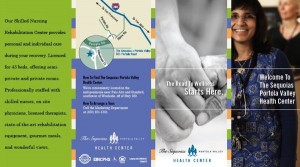 The Sequoias — Portola Valley is a beautiful 42-acre Life Care community on the San Francisco peninsula in the wooded hills near Woodside, California and Silicon Valley. (CLICK TO ENLARGE IMAGE)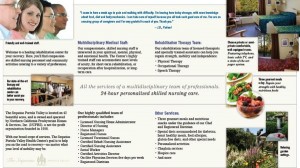 As a freelance healthcare copywriter, I was asked to create a new brochure for its Health Center. People who use this Skilled Nursing Rehabilitation Center that promotes personal and individual care are usually recovering from a heart attack, strokes, broken hip, reconstructive knee surgery, or other injuries. With both private and semi-private rooms, the Portola Valley Health Center offers skilled nurses, on-site physicians, licensed therapists, state-of-the-art rehabilitation equipment, gourmet meals, and wonderful views.
Download Health Center Brochure PDF.
Healthcare copywriting by Gil Zeimer, art direction/design by Andre Cohen.