Healthcare Copywriting is one of my specialties. Because I'm a San Francisco freelance healthcare copywriter with vast expertise across all media, I've had the good fortune of working with a wide variety of healthcare products and services over my 25-year career. Below are my specific healthcare copywriter credentials that have earned me a top ranking on search engines for "Healthcare copywriting":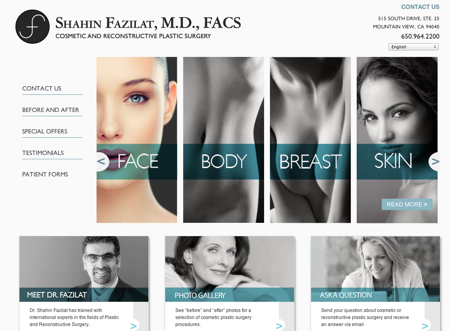 The Best New Body – Website Copywriting
For this 66-page site that I wrote and managed for a cosmetic and reconstructive plastic surgeon on the San Francisco peninsula, you first see black-and-white images on the Home Page of Face, Body, Breast and Skin, etc. But when you mouse over these B/W images, they change to color images. TheBestNewBody.com website was written with keywords for both the surgical and non-surgical procedures pages with a specific keyword density to ensure great SEO search results. Kudos to Mitchell Design, Likoma and Surefire Online Marketing for working with me on the web design, WordPress implementation and SEO keywords, respectively.
Website Copywriting for AI Technology & Digital Imaging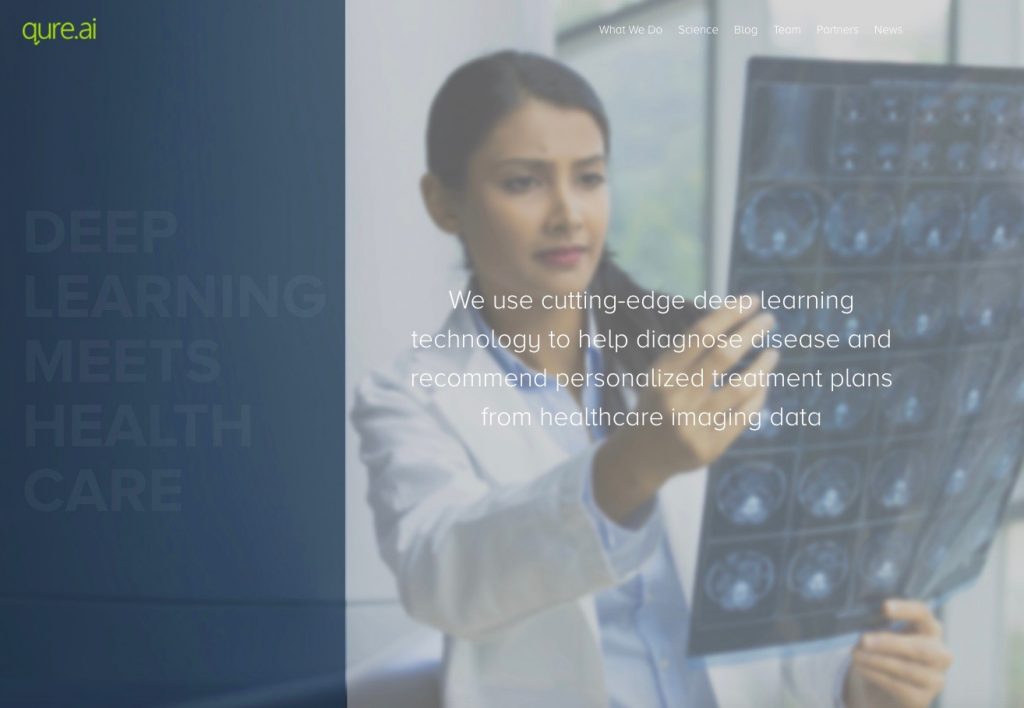 Qure.ai is a company that has successfully combined "Deep Learning" technology, Artificial Intelligence and healthcare.
Their AI radiology solution is helping physicians more accurately research CT Scans, MRIs and X-rays.
The result? A streamlined diagnosis procedure that is typically yielding faster, more accurate feedback about a patient's digital imaging for more positive prognoses.
"World's Ugliest Varicose Veins" Video Copywriting
This world-famous cyclist competed in multiple Tour de France races and rode frequently on Lance Armstrong's teams. He was known for having what he affectionately called "The world's ugliest varicose veins."
George lives in Greenville, SC, and was a patient of this Ivy League-trained vein specialist who performed a minimally invasive procedure to make the huge cluster of varicose veins virtually disappear. Watch this video and see for yourself. It's quite a story…
Medical Technology Copywriting for Earlens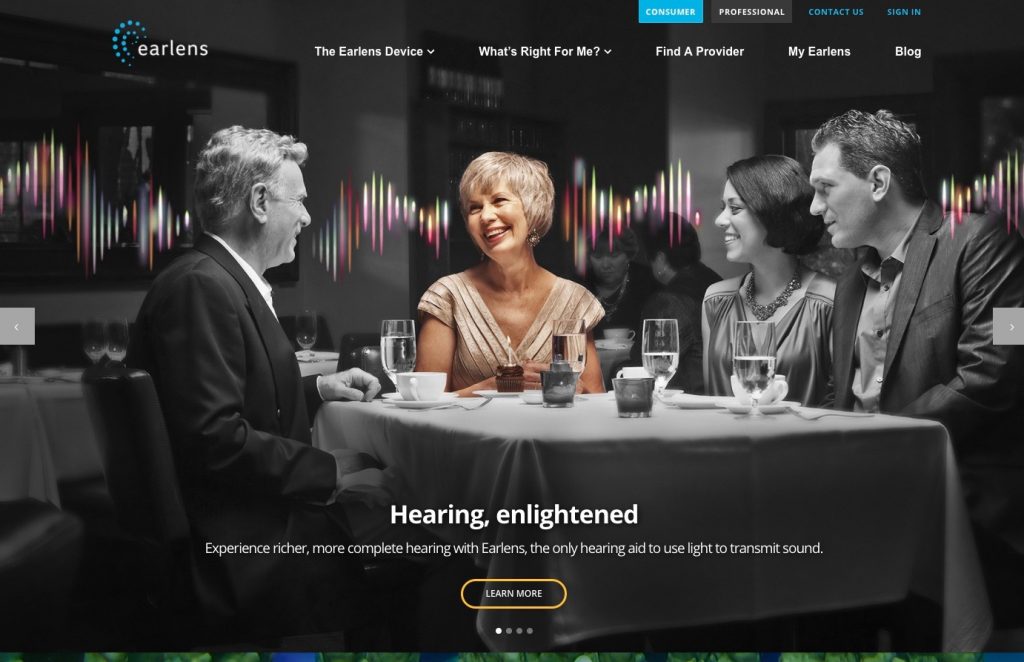 Earlens was a referral from a BNI colleague who had worked in the hearing aid industry at one time. I edited portions of this website.
The company has created a medical technology that is basically "a contact lens for your ear" and is the only hearing aid to use light to transmit sound.
Users experience richer, more complete hearing than with traditional hearing aids.
Financial District Dental Website, Ads and Newsletter
FinancialDistrictDental.com — Dr. Michael Hack ran this thriving cosmetic and general dentistry practice in San Francisco for over 40 years before retiring. I revised the healthcare copywriting for his 30+ page website as part of my BNI Embarcadero Marketing Makeover Team. For Dr. Hack, I've also written ads with Free Whitening offers (a $450 value), designed by Sharon Schanzer of Red Letter Day. Download Ad PDF. We created eight Mental Floss monthly newsletters for Dr. Hack; designed by Bradley Charbonneau, Likoma.com.
Radio Commercial Copywriting for a Hearing Aid Franchise
I was recently referred to a new client in the Pacific Northwest who owns a handful of hearing centers. He had been running radio spots that were not producing results. Within a week, I wrote and produced a :30 and a :10 radio commercial through my alliance with the incredibly talented Troy Duran at Speed of Sound Productions. Have a listen to the 30-second recorded spot.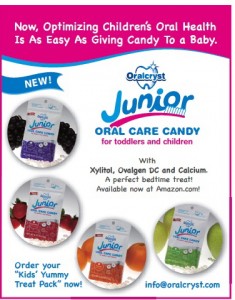 Website and Marketing Materials for Oral Care Candy
— Oralcryst.com — This is a site for remarkable new products being introduced to the US market. The Oralcryst® brand is comprised of revolutionary  "functional candy" with ingredients that have already been proven in Japan to effectively help kids naturally wash and chew away cavity-causing bacteria and to optimize their good oral health. These products are also 100% Sugar-Free, Allergen-Free, Nut-Free, Peanut-Free, Soy-Free, Gluten-Free and Trans Fat-Free, which is unique in the marketplace. They're available in Orange, Grape, Strawberry and Green Apple.
Get Third Eye Retroscope
— I wrote a site for Avantis Medical Systems, the inventors of the Get Third Eye Retroscope colonoscopy device. The home page is a portal page for two sites: one for patients; one for physicians.
Website for Safte Products
–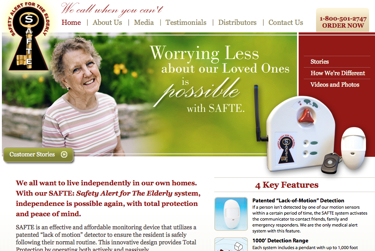 SafteProducts.com — SAFTE is an acronym for "Safety Alert for The Elderly" system, an effective, affordable monitoring device that utilizes a patented "lack of motion" detector to ensure the resident is safely following their normal routine. This innovative design provides Total Protection and peace of mind for seniors by operating both actively and passively.
Website for Hantel Technologies
— Hantel Technologies — This site went live in August 2009 is Hantel Technologies, which is your resource for medical and biotech product engineering and manufacturing, from concept through commercialization.
Radio Commercials for Lasik Client
Lasik-1 :30 radio jingles: I wrote these spots for a client in the Midwest through an agency on the East Coast, which proves I don't have to live in your town to write, direct and produce great radio copywriting for you: 1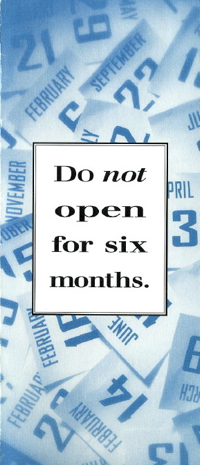 ) Lasik-1 Jingle: "Country Version" – Lasik-1: Country.mp3 2) Lasik-1 Jingle: Rock Version" – Lasik-1: Rock.mp3 3) "Lasik-1 Jingle: Easy Listening Version"– Lasik-1: Easy Listening.mp3
Self-Mailer for Blue Shield of California
— Blue Shield of California wanted to send a direct mail piece to potential beneficiaries to remind them that they no longer have to wait six months to get coverage for a pre-existing medical condition. We decided to use a self-mailer approach. This blue, black and white six-panel mailer utilized an arresting headline, straightforward copy, competitive Blue Shield personal HMO rate charts, and a tear-off postcard so recipients could request a call. It was very successful by returning a high response rate. Download side 1 of Self-Mailer PDF. Download side 2 of Self-Mailer PDF.

Website for Skincare Company
For this client in Maryland, S3 Skincare.com, I wrote the new tagline: "Scientifically Proven. Superbly Radiant. Smarter Skincare." to play off of the company's name. For the home page, there are four slider visuals with headlines such as: "Skin. Therapy."; "Smarter Skincare"; "Superbly Radiant Skin"; and "The Truth About Skincare". I've used these products and they're terrific for making your skin feel its best. Plus, they're 98% Natural and made with 100% Recyclable Packaging.
Catalog for U.S. Dentek
— U.S. Dentek dental products — I wrote a 12-page catalog/sales brochure for U.S. Dentek to introduce its Breath Remedy line of products, which we called "The World's First Fresh Breath Kit." It included a complete home oral breath care system with a daily regimen kit with the entire line of Breath Remedy products: Toothpaste, Tongue Scraper, Tongue Spray, Breath Drops and Mouth Rinse. The last few pages of the catalog were for the company's established products like Dental Piks, Tartar Scrapers, Dental First Aid Kits, and more. My strength in healthcare copywriting, as well as catalog copywriting, helped me complete this successful product launch. Download Catalog Covers PDF. Download Catalog Inside Pages PDF.
SEO Keywords For LAPSF Website
— I've rewritten www.LAPSF.com with SEO keywords copy for its main pages. These bariatric surgery leaders in San Francisco, Los Angeles and Honolulu offer Laparoscopic techniques for superior weight-loss surgery procedures, gastric bypass and LapBand surgery. This site even offers a Body Mass Index (BMI) Calculator.
Copy Editing for Asuka Laser Website
— Asuka Medical — This site was written in Japanese for veterinarians, then translated loosely in English. I then edited the content for a North American audience with my healthcare copywriting experience — and as a dog owner. It offers versatile applications for diode laser use.
Articles for Alert Diver Magazine
— Finally, I've written four magazine articles that were published in Alert Diver Magazine by Diver's Alert Network. You can read them on my Web site at these links: — The Sun Also Burns; May 2001 — Low Anxiety: Getting Narked in Belize's Great Blue Hole; June 2001 — To Dive or Not To Dive: A California Diver's Experience in Florida Waters; April 2002 — Equipment Upgrade 2.0: Your Gear May Be Years Old. It Still Works. But Is It Safe?; May 2002 To contact me as a freelance healthcare copywriter for your medical —- or even a non-medical — Website or other freelance healthcare copywriting projects, visit www.zeimer.com/contact and fill in the required fields. View More Healthcare Copywriting Samples.