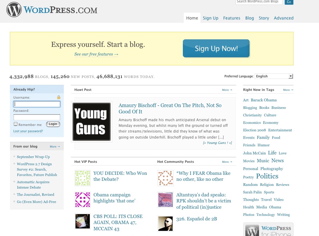 WordPress is best known as an open-source, state-of-the-art publishing platform focusing on aesthetics, Web standards and usability. Launched by Matt Mullenweg, a 24-year-old college dropout, WordPress is now home to more than 4 million blogs worldwide, the software of choice for the majority of mainstream media, and for the blogosphere's biggest players.
Best of all, it's both free and priceless at the same time.
All around the globe, all around the clock, blogs are updated 18 times EVERY SECOND. Some other facts that may astound you from Technorati, a blog search engine (as of 10/09/08):
133 million blogs have been launched since 2002.
7.5 million blogs have been posted in the past 120 days
1.5 million blogs have been posted in the last 7 days.
900,000 blog posts (articles) have been created in the last 24 hours.
184 million bloggers are churning out 570,000 posts (articles) every 24 hours, reaching about 70% of all Web surfers.
Some popular sites that run on WordPress include:
I'm proud to be a WordPress Copywriter. Since first using it on Vagablond in April 2005, I've been a WordPress Writer on virtually all new sites that I've create with colleagues like Bradley and other Web developers/designers.