Zeimer's NewZletter, Vol. 1, No. 3, August 2009
1. Welcome Message
2. What's New?
3. A Recent Success Story
4. Featured Blog Article
5. Recycled Creativity
6. Humor Is A Funny Thing
7. Why I Love Referrals
8. Ad Trivia
9. About Zeimer's Advertising Shoppe
Welcome Message
Hi there,
When my wife needed a new car recently, she surprised me by opting for a red Toyota Solara convertible instead of another boring blue Volvo. Ben & Jerry's may call its newest flavor Chocolate Therapy, but driving her car with the top down and the warm sun on your face is Convertible Therapy.
As a freelance writer who has ridden the emotional —- and financial roller —- coaster for about 15 years now, just driving to the grocery store is a fantastic escape from the reality of the business world. So if your billings are down or you want to feel uplifted, my advice is to take your top off and get a convertible.
Cheers and best regards,
Gil Zeimer
What's New?
What I'mve been doing:
— I wrote video scripts for an investment advisor, a realtor and my BNI Embarcadero chapter, five newsletter stories for a leading healthcare firm on the East Coast, the first of three local newsletters for some senior Life Care facilities, and a Website copy for an executive rental company.
— Read past issues of Zeimer's NewZletter — March 2009
— Zeimer's NewZletter — July 2009
A Recent Success Story
In each newsletter, I share a copywriting success story. Here's a recent one.
The Problem: InterHealth Neutraceuticals, Inc., a global leader in researching, developing, manufacturing, marketing and distributing nutritional ingredients, wanted to introduce its newest product with a splash.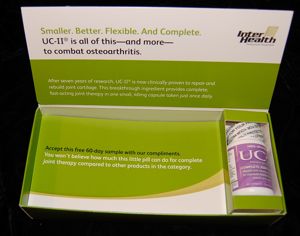 The Solution: My colleague, Andre Cohen of www.acohenmarketing.com designed this dynamic, three-dimensional mailer that included a teaser on the outside of the box, a mini-brochure, a sample of the new product that combats osteoarthritis, and tickets to two upcoming events at large trade shows.
The Result: "The feedback we got from our direct mail campaign that Gil wrote the copy for was extremely positive. Follow-up calls by the sales team confirmed that those who they spoke with remembered the package and liked it a lot. Not only did it generate a lot of positive feedback from our target audience, but it generated real interest and requests for in-depth product presentations in person. This is better than any responses from our previous campaigns."
— Marlen Otten, Marketing Manager, InterHealth Neutraceuticals, Inc.
Featured Blog Article
In July, I published a story in Referral Success Magazine titled "39 Ways To Increase Your BNI Referrals And Grow Your Chapter".
View the article on pages 14-17 of their July 2009 issue.
Recycled Creativity
As a Certified Green Bay Area Business, I took a pledge to reduce my carbon footprint by using recycled products and services wherever possible. To that end, I'm recycling some of my past successes as a freelance copywriter in each of these newsletters.
Here's an example: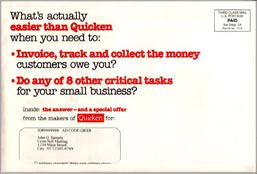 Intuit QuickBooks Software Direct Response Package — I'm proud to say that I introduced QuickBooks software to Quicken users in 1994. Above is the outside envelope of this package. It included a personalized letter, a huge fold-out poster explaining why QuickBooks is the right software for certain types of businesses and why Quicken is still the right product for other businesses, a response form, a BRE, and a lift note.
This was a very strategic mailing, because QuickBooks wanted to sell small businesses without cannibalizing sales to Quicken users who were very loyal to the world's #1-selling financial management software. After several attempts by others to introduce QuickBooks software to Quicken users had failed, I wrote the package that became the Control for at least 18 months and solidified QuickBooks' position in the market as the right software for small businesses, while Quicken was the software of choice for individuals.
Humor Is A Funny Thing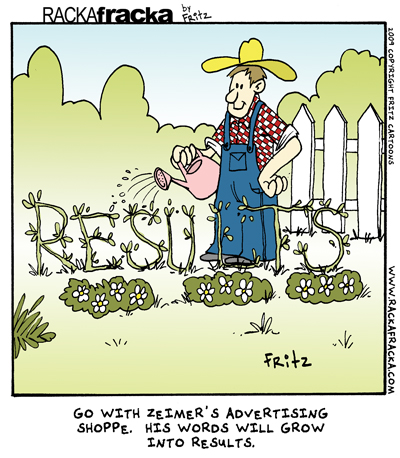 Periodically, I'll be featuring a customized business cartoon from my colleague Fritz from www.fritzcartoons.com. We like to work together to offer a humorous cartoon for client newsletters (both online and published), Websites, ads, direct response projects, calendars, and other media. So next time you want to get someone's attention, consider hitting their funny bone.
Why I Love Referrals
One thing I love about referrals is that you never know when and where they'll come from. Two weeks ago, I got an email from a friend who's a graphic designer in New Jersey. She and I have worked together —- and referred to each other — on multiple projects over the past four years. Her referral via email just said "New Gig!" Friday, I posted the first draft of the brochure copy on www.BasecampHQ.com so the project's definitely a go.

Advertising Trivia
Every issue, I'mll ask a few questions about Advertising Trivia. The first correct responses from a new entrant will win a Starbucks Gift Card.
The winner of the March Trivia Contest was Jeff Davidson in Chicago, correctly answered Clara Peller ("Where's The Beef?"), Nipper (RCA's dog), Hershel Bernardi (Jolly Green Giant) and Daws Butler (Cap'n Crunch).
This month's trivia questions are the same as July's because no one answered them yet:
1) What's the slogan for a Texas-based convenience store chain?
2) What soda company hosted an ongoing TV taste contest vs. the long-time king — and won?
3) What famous female advertising personality founded an agency, then married the client at Braniff Airlines?
4) What award-winning creative director wrote the screenplay for "The Natural" while employed at a leading New York agency?
INSTRUCTIONS TO RESPOND:
1) Go to: https://zeimer.com/contact
2) In "Other," type AUGUST TRIVIA CONTEST
3) In the Message Box, type your answers in the box.
4) Click "Send Email."
About Zeimer's Advertising Shoppe
Zeimer's Advertising Shoppe is an award-winning copywriting consultancy and ad agency. I write ads, brochures, direct response campaigns, radio and TV scripts, Websites infused with SEO keywords, newsletter, and more.
For information or to receive an estimate on your next project, contact gil@zeimer.com or call me today at 415.491.1058.
© 2009. Zeimer's Advertising Shoppe. All Rights Reserved.
NOTICE: If you no longer wish to receive this newsletter, reply and type "REMOVE" in the subject line.